IT
Heard of Pidgin? You should have. It's one of the best multi-protocol instant messaging apps for Windows and Linux, and it's open source. Pidgin includes some interesting plugins and features that you might not know about.
5 Tips and Tricks to Get the Most Out of Pidgin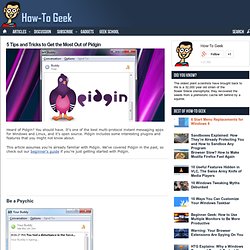 Hello, I'm new to this forum and I need help choosing the right windows server for my small business. Here are the specs of the server. AMD Phenom 9750 Quad Core 2.39ghz 4GB RAM DDR2 1TB HD 2x We need the server for File Storage (sharing) Web server (used only locally in the office and will run apache php mysql stack) Print Server with 3-4 printers Active Domain Directory(to deploy software, apply group policies, and pretty much manage the clients) There will be around 5-10 clients all using windows 7 pro. Any help is greatly appreciated.
Choosing Windows Server Edition