Brain Machine Interfaces
Part-Human, Part-Machine Transistor Devised. By embedding a nano-sized transistor inside a cell-like membrane, scientists link humans and machines more intimately than ever.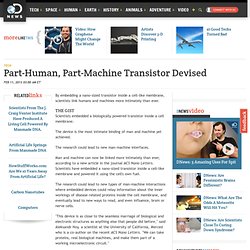 Scientists embedded a biologically powered transistor inside a cell membrane. The device is the most intimate binding of man and machine yet achieved. The research could lead to new man-machine interfaces. Man and machine can now be linked more intimately than ever, according to a new article in the journal ACS Nano Letters. Scientists have embedded a nano-sized transistor inside a cell-like membrane and powered it using the cell's own fuel. Researchers create car that can be steered by thought. The case for outlawing the practice of talking on cell phones while driving got a boost from the latest breakthrough from the innovation labs of Freie Universität Berlin.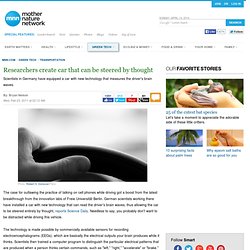 German scientists working there have installed a car with new technology that can read the driver's brain waves, thus allowing the car to be steered entirely by thought, reports Science Daily. Needless to say, you probably don't want to be distracted while driving this vehicle. The technology is made possible by commercially available sensors for recording electroencephalograms (EEGs), which are basically the electrical outputs your brain produces while it thinks. Robotic Exoskeleton turns grunts into Super Soldiers. Mind Technologies' Master Mind & Mind Mouse Allow You To Control Y... Mind Technologies will begin selling the Emotiv Headset on January 1 for $299.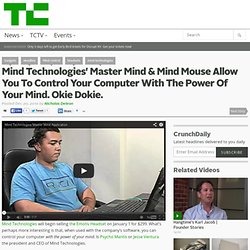 What's perhaps more interesting is that, when used with the company's software, you can control your computer with the power of your mind. Is Psycho Mantis or Jesse Ventura the president and CEO of Mind Technologies. There's three main piece of software: Master Mind, Mind Mouse, and Think Tac Toe.
---