the biobot
Get flash to fully experience Pearltrees
The Worthington Papain Dissociation System is a set of reagents intended for use in the neural cell isolation method of Huettner and Baughman ( J. Neurosci., 6 , 3044, 1986). The materials are designed for convenience and simplicity and are useful to the occasional user as well as the more experienced and frequent user. Each lot is use tested for performance in rat spinal neural cell isolation and this kit provides freshly prepared enzyme solutions for each dissociation. Stability/Storage: The reagents are stable at ambient temperatures for the periods of time expected in normal shipping procedures, but the package should be refrigerated upon arrival.
The goal of building this hardware was to create a stimulation system that could operate in a real-time feedback or control paradigm as well as the more traditional program mode (e.g., LTP protocols). Basically, to stimulate at any location and any time in response to ongoing activity measured with the MEA1060 amplifier.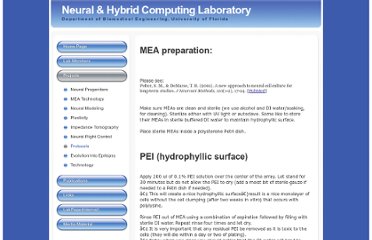 PEI cc-4195 PEI from clonetics mixed with cc-4196 PBS Below is the procedure for preparing 1X PEI Plating Substrate using Cloneticsâ"¢ 5% PEI stock solution and Borate Buffer Solution. 1. Prepare PEI Plating Substrate to a final concentration of 0.05% (1X): Make a 1:100 dilution of the 5% PEI Plating Substrate stock solution using Borate buffer, and filter through a 0.2 micron filter. Store under sterile conditions at 4_C for up to 1 month. Dnase Vial, PDS Earle's Balanced Salt Solution, PDS Ovomucoid Inhibitor Vial, PDS Papain Vial, PDS Introduction
1. Introduction 2. Methods 3.
Introduction to living cortical networks and multielectrode array technology The brain is perhaps one of the most powerful and robust computing machines in existance. It can recognize vastly different patterns, store a lifetime worth of information, and yet is more fault tolerant than any computer today.
Oct. 22, 2004 — GAINESVILLE, Fla. --- A University of Florida scientist has grown a living "brain" that can fly a simulated plane, giving scientists a novel way to observe how brain cells function as a network. The "brain" -- a collection of 25,000 living neurons, or nerve cells, taken from a rat's brain and cultured inside a glass dish -- gives scientists a unique real-time window into the brain at the cellular level. By watching the brain cells interact, scientists hope to understand what causes neural disorders such as epilepsy and to determine noninvasive ways to intervene. As living computers, they may someday be used to fly small unmanned airplanes or handle tasks that are dangerous for humans, such as search-and-rescue missions or bomb damage assessments. "We're interested in studying how brains compute," said Thomas DeMarse, the UF professor of biomedical engineering who designed the study.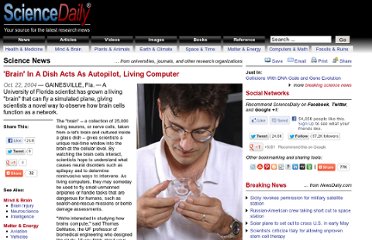 Abstract The acts of learning and memory are thought to emerge from the modifications of synaptic connections between neurons, as guided by sensory feedback during behavior. However, much is unknown about how such synaptic processes can sculpt and are sculpted by neuronal population dynamics and an interaction with the environment. Here, we embodied a simulated network, inspired by dissociated cortical neuronal cultures, with an artificial animal (an animat) through a sensory-motor loop consisting of structured stimuli, detailed activity metrics incorporating spatial information, and an adaptive training algorithm that takes advantage of spike timing dependent plasticity.