Add_in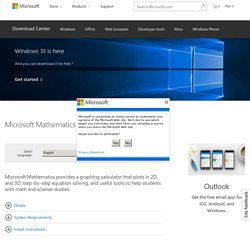 Microsoft Mathematics provides a graphing calculator that plots in 2D and 3D, step-by-step equation solving, and useful tools to help students with math and science studies. Note: There are multiple files available for this download. Once you click on the "Download" button, you will be prompted to select the files you need. Microsoft Mathematics provides a set of mathematical tools that help students get school work done quickly and easily. With Microsoft Mathematics, students can learn to solve equations step-by-step while gaining a better understanding of fundamental concepts in pre-algebra, algebra, trigonometry, physics, chemistry, and calculus.Microsoft Mathematics includes a full-featured graphing calculator that's designed to work just like a handheld calculator. Additional math tools help you evaluate triangles, convert from one system of units to another, and solve systems of equations.
Mathematics Add-In for Word and OneNote
Microsoft Mathematics Add-in for Microsoft Word and Microsoft OneNote makes it easy to plot graphs in 2D and 3D, solve equations or inequalities, and simplify algebraic expressions in your Word documents and OneNote notebooks. If you're running Word 2013 or OneNote 2013, we've got you covered. You can find your version here. With the Microsoft Mathematics Add-in for Word and OneNote, you can perform mathematical calculations and plot graphs in your Word documents and OneNote notebooks. The add-in also provides an extensive collection of mathematical symbols and structures to display clearly formatted mathematical expressions. You can also quickly insert commonly used expressions and math structures by using the Equation gallery.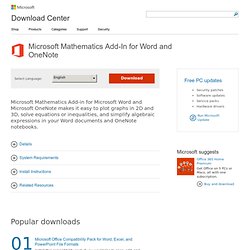 Welcome to 2BillionKids.org
office 07 files