Meals
Peanut Chicken Recipe | Gluten-Free Peanut Crusted Chicken Fingers. Creamy Macaroni and Cheese. A creamy macaroni and cheese recipe that will satisfy both young and old made with Kerrygold cheese and butter from grass-fed cows.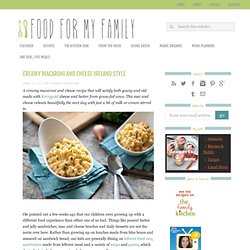 This mac and cheese reheats beautifully the next day with just a bit of milk or cream stirred in. Ole pointed out a few weeks ago that our children were growing up with a different food experience than either one of us had. 100 Delicious, Dirt-Cheap Recipes for the Starving Student | Online College... Most students don't have a lot of cash to spend on food, but that doesn't mean you have to go hungry.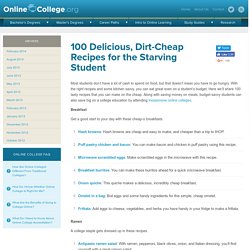 With the right recipes and some kitchen savvy, you can eat great even on a student's budget. Here we'll share 100 tasty recipes that you can make on the cheap. Along with saving money on meals, budget-savvy students can also save big on a college education by attending inexpensive online colleges. Petite Lasagnas. Recipe slightly adapted from Hungry Girl (makes 12) 12 oz raw ground turkey ¼ tsp salt, divided ¼ tsp pepper.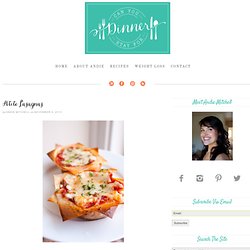 Pizza Braid. The Hazel Bloom: The Best Macaroni and Cheese Recipe Ever. I can say this is the best macaroni and cheese recipe ever because it's not really my recipe.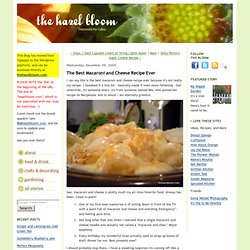 I tweaked it a tiny bit - basically made it even more fattening - but otherwise, it's someone else's. It's from someone named Bev, who posted her recipe on Recipezaar and to whom I am eternally grateful. See, macaroni and cheese is pretty much my all-time favorite food. Always has been. Bacon, Lettuce and Tomato (BLT) Pasta | Never Enough Thyme - Recipes and... People think that because I write a food blog that I must cook constantly.
Well, it is true that I do enjoy getting in the kitchen and making great food for my family. However, if I'm being totally honest, there are days when by dinner time I'm just completely wiped out. Does that ever happen to you? I bet it does! And the last thing you want to do on those days is cook something complicated for dinner.
---