Make-up
Makeup 101- Basic Makeup Techniques & Makeup Geek - Tips, Video Tutorials, Reviews, & More! Peacock inspired with MAC pigments & Makeup Geek - Tips, Video...
Nails
6 Hot Summer Eye Makeup Tutorials! | Life With 4 Boys. I am going to clue you all in on a little secret, I have never been taught how to put on makeup!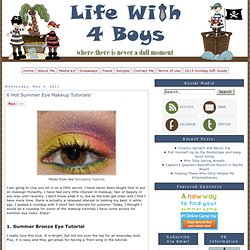 Honestly, I have had very little interest in makeup, hair or beauty in any way until recently. I don't know what it is, but as the kids get older and I find I have more time, there is actually a renewed interest in looking my best. A while ago, I posted a roundup with 5 short hair tutorials for summer. Today, I thought I would do a roundup for some of the makeup tutorials I have come across for summer eye looks. Enjoy!
How To Get The Rock Chick Look (Music And Style) Celebrity make-up artist Daniel Sandler shows you how to get the rock chick, 'just got out of bed' look.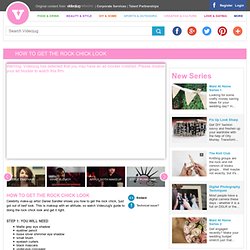 This is makeup with an attitude, so watch VideoJug's guide to doing the rock chick look and get it right. Step 1: You will need Matte grey eye shadow eyeliner pencil loose silver shimmer eye shadow small brush eyelash curlers black mascara under-eye concealer lip gloss cotton bud.
---