David GREBER
Get flash to fully experience Pearltrees
By Christopher Shea
A Reply to Robert Murphy's 'Have Anthropologists Overturned Menger?
À propos de :
Pourquoi des manifestants occupent-ils Wall Street ?
Un article de Wikipédia, l'encyclopédie libre. David Graeber en 2002. David Graeber (né le 12 février 1961 ) est un anthropologue et anarchiste américain.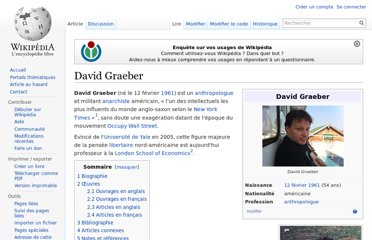 L'anthropologue anarchiste David-Graeber. Photo Jennifer S Altman
Throughout its 5000 year history, debt has always involved institutions – whether Mesopotamian sacred kingship, Mosaic jubilees, Sharia or Canon Law – that place controls on debt's potentially catastrophic social consequences. It is only in the current era, writes anthropologist David Graeber, that we have begun to see the creation of the first effective planetary administrative system largely in order to protect the interests of creditors. What follows is a fragment of a much larger project of research on debt and debt money in human history.
Juillet 1997, l'usine Moulinex de Mamers met la clé sous la porte. Sans avoir lutté de peur de décourager un éventuel repreneur, tous sont jetés en pâture au monde de la flexibilité, du travail en équipe, des reconversions forcées... Cellatex, Unilever, Bull, Adelshoffen, Stracel, Forgeval, Continental, Arcelor...