Artistes
▶ Paco de Lucia - Rio Ancho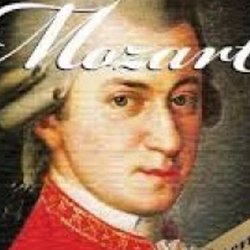 This video is currently unavailable. Sorry, this video is not available on this device. Video player is too small. Watch Later as __user_name__
So Incredible - Rachael Lander - 'Get Lucky' (Looped Cello Cover)
▶ Deva Premal & Miten with Manose - Gayatri Mantra 2009, In Concert with... cd/dvd
Beethoven:Moonlight Sonata -Adagio sostenuto- hélène grimaud,piano
Cette vidéo est actuellement indisponible. Désolé, cette vidéo n'est pas disponible sur cet appareil. by $author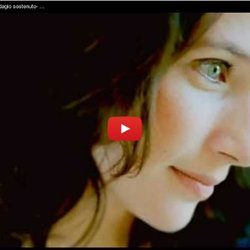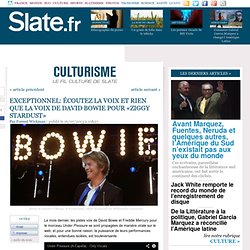 Exceptionnel: écoutez la voix et rien que la voix de David Bowie pour «Ziggy Stardust»
Le mois dernier, les pistes voix de David Bowie et Freddie Mercury pour le morceau Under Pressure se sont propagées de manière virale sur le web, et pour une bonne raison: la puissance de leurs performances vocales, entendues isolées, est bouleversante. Aujourd'hui, grâce à studebaker, un utilisateur de Soundclound, nous avons accès à certaines des pistes voix de Bowie pour ce qui est probablement son plus grand classique, Ziggy Stardust ou The Rise and Fall of Ziggy Stardust and the Spiders from Mars. publicité Sur Starman, le plus célèbre des deux morceaux, entendre Bowie s'harmoniser avec sa propre voix pour le refrain (1:05 environ) n'a pas de prix. Mais la piste voix isolée de Five Years, l'apocalyptique morceau d'ouverture de l'album, est plus impressionnante encore. Dans les paroles, le narrateur découvre qu'il ne reste au monde que cinq ans à vivre, et à la fin du morceau, Bowie semble hurler pour sa propre vie.
HugPolice meets beatboxer Dave Crowe 1
Hélène Grimaud plays the "Adagio" from Mozart's Piano Concerto no.23
Mark Rae : Medicine
Sing! Day of song - Bobby McFerrin - Improvisation
Artist's Eerie Mirrored Sculptures Reflect (On) Nature (Photos)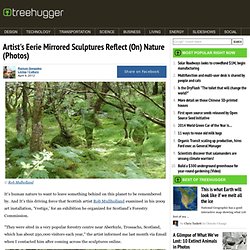 © Rob Mulholland It's human nature to want to leave something behind on this planet to be remembered by. And It's this driving force that Scottish artist Rob Mullholland examined in his 2009 art installation, 'Vestige,' for an exhibition he organized for Scotland's Forestry Commission. "They were sited in a very popular forestry centre near Aberfoyle, Trossachs, Scotland, which has about 250,000 visitors each year," the artist informed me last month via Email when I contacted him after coming across the sculptures online. © Rob Mulholland The area of Scotland that the six mirrored silhouettes were stalled in is a forest that was once home to small sheep farms and rural communities.
Sweet electronic music lovers
BOHEMIAN RHAPSODY Video
impossible drum solo by mike portnoy
IMPRESSIONANTE! - O Melhor baterista sem bateria (Esse é fera)
Bagdad Café
Thievery Corporation - The Numbers Game
Bobby Mcferrin - Don't Worry Be Happy!
Bill Ravi Harris
(traduit) "Heal the world" Michael Jackson
ORIGINAL SOUNDTRACK. THE MAHABHARATA/FILM BY PETER BROOK cdrw9. Sterns Music On-line, World Music On-Line, African Music On-Line. Real Audio/MP3 samples
Cité de la musique Live - Jazz à la Villette. Mulatu Astatké
Vidéos publiées par BERUSSA MUSIC&ART : Frank Sinatra - Strangers In The Night ............berussa [HQ]
Deep Purple____Child in time LIVE 1970
‪Pat Metheny - The Sound Of Silence!‬‏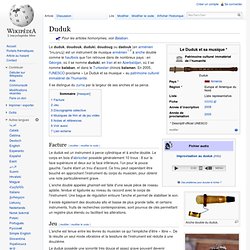 Duduk
Un article de Wikipédia, l'encyclopédie libre. Pour les articles homonymes, voir Balaban. Il se distingue du zurna par la largeur de ses anches et sa perce. Facture[modifier | modifier le code]
Iron Maiden -- Phantom of the Opera
iron maiden
Zakir Hussain & Jan Garbarek – Zakir! | Jazz Music
Sandra Nkake - Stay true
Sandra Nkaké - Mansaadi - La Mauvaise Réputation
Philip Glass - Ecoute gratuite sur Deezer
Joe Zawinul and Syndicate
Corrandes d'Exili | Sílvia Pérez Cruz i Raül Fernández