Articles LIETAER
Our Monetary Structure a SystemicCause for Financial Instability
Des monnaies alternatives pour nous sortir de la crise
Bernard Lietaer a ce qu'on appelle un parcours atypique.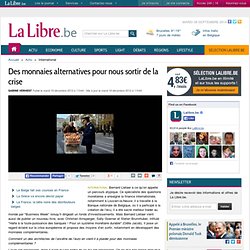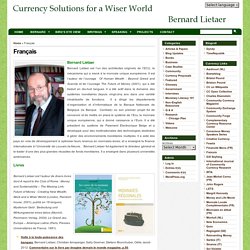 Home » Français
Over the past year, I've been exploring the many examples out there of communities forming peer-to-peer networks in order to rebuild local economies, resilience and trust. These range from gift economies to barter groups, from loyalty programs to mutual credit systems.
How Can Business-to-Business Trade Networks Build Local Resilience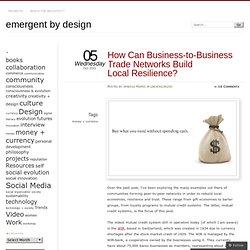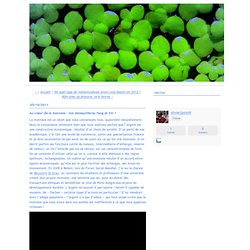 Au coeur de la monnaie : nos déséquilibres Yang et Yin ? - My Lemna
La monnaie est un objet que nous connaissons tous, quasiment naturellement. Nous le connaissons tellement bien que nous oublions parfois que l'argent est une construction économique, résultat d'un choix de société.
Suite à la sortie du livre (éditions Yves Michel ), Bernard Lietaer a été interrogé par différents journalistes, notamment radio.
On parle d'Au coeur de la monnaie de Bernard Lietaer « 1001 monnaies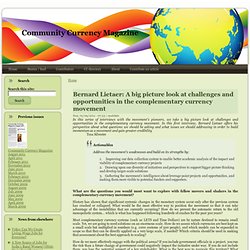 In this series of interviews with the movement's pioneers, we take a big picture look at challenges and opportunities in the complementary currency movement. In this first interview, Bernard Lietaer offers his perspective about what questions we should be asking and what issues we should addressing in order to build momentum as a movement and gain greater credibility Actionables Address the movement's weaknesses and build on its strengths by: Improving our data collection system to enable better academic analysis of the impact and viability of complementary currency projects Drawing upon our diversity of initiatives and perspectives to support bigger picture thinking and develop larger-scale solutions Gathering the movement's intelligence about leverage point projects and opportunities, and making them more visible to potential funders and supporters.
Bernard Lietaer: A big picture look at challenges and opportunities in the complementary currency movement | Community Currency Magazine
Spécialiste monétaire Bernard Lietaer: 'La crise constitue une opportunité'
L'argent : briser le tabou pour sortir des crises financières systémiques - [CDURABLE.info l'essentiel du développement durable] | Monnaies complémentaires
Bernard #lietaer enfin récompensé par ses pairs ! #dessin http://yfrog.com/h84g0zwtj
Au coeur de la monnaie
Au coeur de la monnaie Systèmes monétaires, inconscient collectif, archétypes et tabous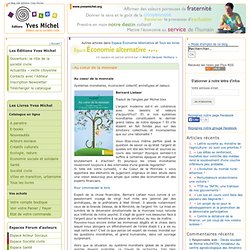 Notre système monétaire meurt par manque de féminité… Le nouveau Lietaer est sorti ! Il est chaud, il est beau !
Equilibrer féminin et masculin dans le système monétaire « 1001 monnaies