ECON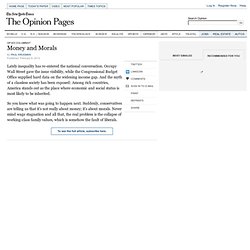 So you knew what was going to happen next. Suddenly, conservatives are telling us that it's not really about money; it's about morals. Never mind wage stagnation and all that, the real problem is the collapse of working-class family values, which is somehow the fault of liberals. But is it really all about morals? No, it's mainly about money.
Money and Morals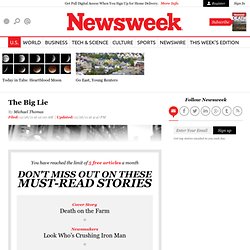 Imagine a vast field on which a terrible battle has recently been fought, the bare ground cratered by fusillade after fusillade of heavy artillery, trees reduced to blackened stumps, wisps of toxic gas hanging in the gray, and corpses everywhere. A terrible scene, made worse by the sound of distant laughter, because somehow, on the heights commanding the dead zone, the officers' club has made it through intact.
The Big Lie
American Class System - We Are Not All Created Equal, by Stephen Marche
Published in the January 2012 issue There are some truths so hard to face, so ugly and so at odds with how we imagine the world should be, that nobody can accept them. Here's one: It is obvious that a class system has arrived in America — a recent study of the thirty-four countries in the Organization for Economic Cooperation and Development found that only Italy and Great Britain have less social mobility. But nobody wants to admit: If your daddy was rich, you're gonna stay rich, and if your daddy was poor, you're gonna stay poor. Every instinct in the American gut, every institution, every national symbol, runs on the idea that anybody can make it; the only limits are your own limits.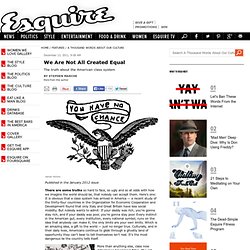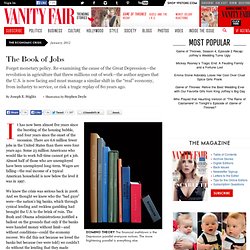 What this transition meant, however, is that jobs and livelihoods on the farm were being destroyed. Because of accelerating productivity, output was increasing faster than demand, and prices fell sharply. It was this, more than anything else, that led to rapidly declining incomes. Farmers then (like workers now) borrowed heavily to sustain living standards and production. Because neither the farmers nor their bankers anticipated the steepness of the price declines, a credit crunch quickly ensued. Farmers simply couldn't pay back what they owed.
Notes on an age of folly Thomas Frank [from The Baffler No. 19, 2012]
Too Smart to Fail: Notes on an Age of Folly | | Notebook | The Baffler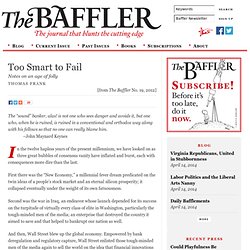 The Shadow Banking System
He left behind a group of legislators in Washington still trying to nail down a controversial attempt to overhaul the nation's in the wake of the country's most serious economic crisis since . A well-regarded lion of the regulatory world, Mr. Volcker had endorsed the legislation before he went fishing, but unenthusiastically. If he were a teacher, and not a senior White House adviser and the towering former chairman of the , he says, he would have given the new rules just an ordinary B — not even a B-plus.
Paul Volcker Pushes for Reform, and Regrets His Past Silence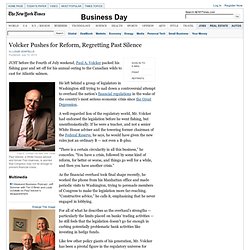 It ran in The Saturday Evening Post on Sept. 14, 1929. A month later, the stock market crashed. "Everyone wants to think they're smarter than the poor souls in developing countries, and smarter than their predecessors," says Carmen M. Reinhart, an economist at the . "They're wrong.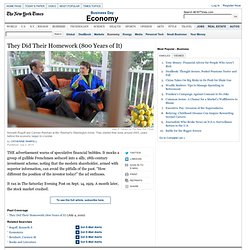 Economists Who Did Their Homework (800 Years of It) - NYTimes.co
You run across this scene in town after town these days, from doughnut shops tucked into strip malls in Charlotte to cafes in Austin. It has become commonplace, along with possessions piled curbside in front of foreclosed homes. Here is gloomy evidence of a national hunger for paychecks, fresh sign of the everyday calamity coloring much of the American experience.
The Great Rupture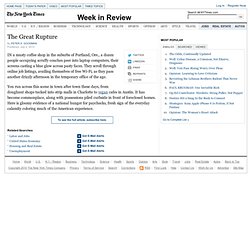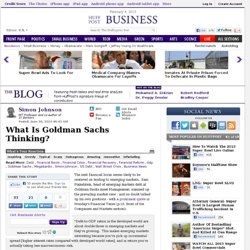 The next financial boom seems likely to be centered on lending to emerging markets. Sam Finkelstein, head of emerging markets debt at Goldman Sachs Asset Management, summed up the prevailing market view - and no doubt talked up his own positions - with a prominent quote in Monday's Financial Times (p.13, front of the Companies and Markets section): "Debt-to-GDP ratios in the developed world are about double those in emerging markets and they're growing. This makes emerging markets interesting because you're pick up incremental spread [higher interest rates compared with developed world rates], and in return you're actually taking less macroeconomic risk. This is a dangerous view for three reasons.
Simon Johnson: What Is Goldman Sachs Thinking?
Thomas Frank: We Should Avoid the Austerity Trap
Friendship in an Age of Economics - Opinionator Blog - NYTimes.c
Op-Ed Contributors - Are Profits Hurting Capitalism? - NYTimes.c