SCCM
PowerShell Tutorial for Beginners - Introduction | PowerShell Pro! PowerShell Tutorial for beginners.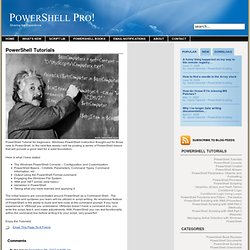 Windows PowerShell instruction thought-out for those new to PowerShell. In the next few weeks I will be posting a series of PowerShell basics that will provide a good start for a solid foundation. Here is what I have slated: The Windows PowerShell Console – Configuration and Customization.PowerShell Basics - Cmdlets, Parameters, Command Types, Command Information, etc…Output using the PowerShell Format command.Engaging the Windows File System.WMI and .NET primer (real basic)Variables in PowerShellTaking what you have learned and applying it. Windows PowerShell Owner's Manual. Microsoft certification and testing - 70-401 Exam. A couple of questions for you that I got from the class.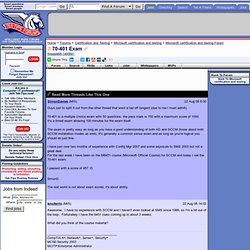 Answer them and then I will tell you the actual answers You have packages that consist of large files. SCCM Deployment Guide - Science IT. From Science IT Deployment Environment SFAC would like to deploy SCCM2K7 primarily for the Operating System Deployment functionality.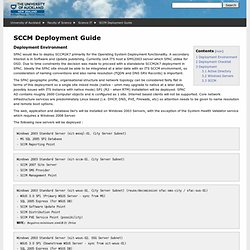 A secondary interest is in Software and Update publishing. Currently UoA ITS host a SMS2003 server which SFAC utilise for OSD. Due to time constraints the decision was made to proceed with a standalone SCCM2K7 deployment in SFAC. System Center 2012 Configuration Manager Guides. Hi all, This list of guides will be updated whenever I write a new guide and is specifically for System Center 2012 Configuration Manager.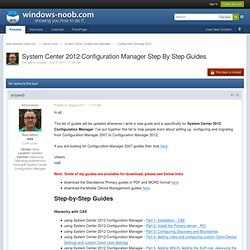 I've put together this list to help people learn about setting up, configuring and migrating from Configuration Manager 2007 to Configuration Manager 2012. If you are looking for Configuration Manager 2007 guides then look here.
---