Civil war
Blue Gray Review | An American Civil War site. Seven Score and Ten | The Civil War Sesquicentennial Day by Day. CAIRO, Thursday, April 14.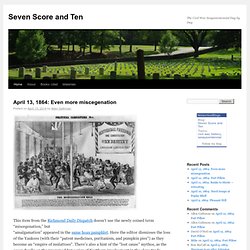 On Tuesday morning the rebel Gen. FORREST attacked Fort Pillow. The American Civil War. Civil War Day by Day | From the Louis Round Wilson Special Collections Library, University of North Carolina at Chapel Hill. Item Description: Diary entry, 15 April 1864, by Sarah Lois Wadley, describing the Union occupation of Monroe.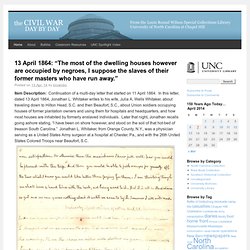 Wadley was the daughter of William Morrill Wadley (1812? -1882) and Rebecca Barnard Everingham Wadley (fl. 1840-1884) and lived with her family in homes near Amite in Tangipahoa Parish, Monroe and Oakland in Ouachita Parish, La., and near Macon, Ga. [Item transcription available below images] Item Citation: From folder 5 of the Sarah Lois Wadley Papers # 1258, Southern Historical Collection, The Wilson Library, University of North Carolina at Chapel Hill. Daily Observations from The Civil War — Day by day writings of the time. Civil War Daily Gazette. DISUNION - Opinionator.
[TAG]The climax of Steven Spielberg's film "Lincoln" — the passage of the 13th Amendment in the House of Representatives — vividly captures the culmination of a dramatic yearlong legislative battle that mixed skillful behind-the-scenes maneuverings with high-minded constitutional debate, internecine party politics, personal animosities and the polarizing dynamics of a presidential election.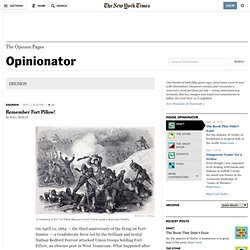 Approval in the House on Jan. 31, 1865, trailed the amendment's passage in the Senate on April 8, 1864, by almost 10 months. Its adoption by 27 states the following December introduced the word "slavery" into the Constitution for the first time. But the amendment's successful ratification was not the first time Americans had sought a constitutional remedy for slavery. On Feb. 28, 1861, a close vote in Congress sent the Corwin Amendment to the states. Named for its House sponsor, Ohio Republican Thomas Corwin, the proposal was actually the work of the soon-to-be secretary of state William H.
---