Civil war
Blue Gray Review | An American Civil War site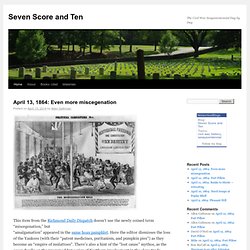 Click for large map. It looked good for a while, but the fortification of "Fort Pemberton" at Greenwood, MS stopped the Yazoo Pass expedition from getting anywhere close to Vicksburg. In a series of dispatches, Grant comes to the conclusion that they might as well pull out.
Seven Score and Ten | The Civil War Sesquicentennial Day by Day
The American Civil War
Item description: Entry, 23 March 1863, from the diary of Sarah Lois Wadley. More about Sarah Lois Wadley: Sarah Lois Wadley was born in 1844 in New Hampshire, the daughter of railroad superintendent William Morrill Wadley (1813-1882) and Rebecca Barnard Everingham Wadley (1819-1905). Although born in New England, she appears to have been raised in the South, and lived with her family in homes near Amite in Tangipahoa Parish, Monroe and Oakland in Ouachita Parish, La., and near Macon, Ga.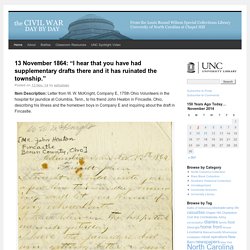 Civil War Day by Day | From the Louis Round Wilson Special Collections Library, University of North Carolina at Chapel Hill
Daily Observations from The Civil War — Day by day writings of the time.
Civil War Daily Gazette
On Aug. 1, 1860, an article in the Chicago Tribune proclaimed, "Great doings in Warren County." The reporter recounted the immense surge in political support for the Republican presidential candidate, Abraham Lincoln, in the northwest farm regions. At a flagpole raising near Monmouth, pro-Lincoln speakers fulminated by the hour to "enthusiastic shouts" from a large crowd. In neighboring Henderson County a flood of 5,000 people, including hundreds arriving by steamboat from Iowa, crowded into Oquawka for a Republican rally later that month. A farmer in Spring Grove named Mitchel A. Thompson most likely attended the Lincoln flag raising.
DISUNION - Opinionator