Civil war
Blue Gray Review | An American Civil War site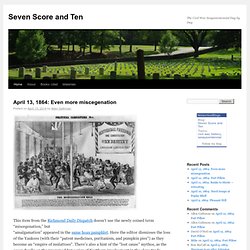 GENERAL: Moved by the exigency in which our country is now placed, we take the liberty of laying before you, unofficially, our views on the present state of affairs. The subject is so grave, and our views so new, we feel it a duty both to you and the cause that before going further we should submit them for your judgment and receive your suggestions in regard to them. We therefore respectfully ask you to give us an expression of your views in the premises.
Seven Score and Ten | The Civil War Sesquicentennial Day by Day
The American Civil War
Item description: Copy of a bill, dated 5 January 1864, before the Confederate House of Representatives titled, "An act to increase the efficiency of the army by the employment of free negroes and slaves in certain capacities."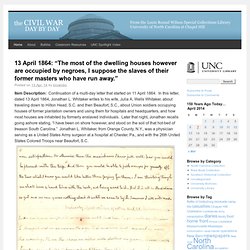 Civil War Day by Day | From the Louis Round Wilson Special Collections Library, University of North Carolina at Chapel Hill
Daily Observations from The Civil War — Day by day writings of the time.
Civil War Daily Gazette
On a humid November day in 1863, Teodoro Zamora and his two brothers rode to the mouth of the Rio Grande. After tying their horses to a lone tree, they walked to where Col. Edmund Davis of the First Texas Cavalry Regiment stood, waiting. Davis was a tall, lean man who served for six years as the 12th District judge of Brownsville, Tex. He ruled over land disputes, fought beside the Rangers during the Texas Revolution and sentenced criminals to the penitentiary. But after Texas seceded from the Union, he refused to take the oath of allegiance to the Confederacy.
DISUNION - Opinionator