Interior Design
Hydroponic Wino-Gardening. A Wine Rack that Stores Yarn. Jacinda at Prudent Baby shared this re-use of an empty wine rack a while back.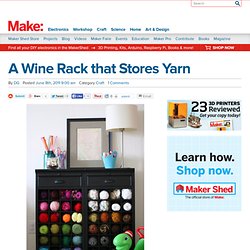 The rainbow of yarn colors is absolutely gorgeous, and I'd definitely want my crocheting chair and lamp nearby, so I could contemplate future projects while working on current ones. I couldn't help but chuckle at the last line of Jacinda's post – haven't we all been here? "Of course, as soon as I finished my happy little display I found another GIANT tub of yarn. I have a vice, y'all and it isn't wine." Related. Moroccan Wall Stencil. Hot or Cool? Color-Changing Chameleon Tiles. There is virtually no limit to what you can decorate with color-changing tiles (from Inventables).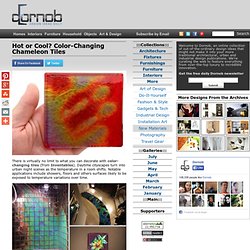 Daytime cityscapes turn into urban night scenes as the temperature in a room shifts. Notable applications include showers, floors and others surfaces likely to be exposed to temperature variations over time.
---