WikiPedia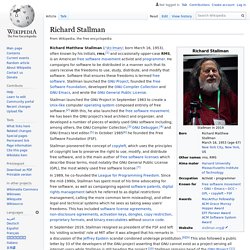 Richard Stallman
Richard Matthew Stallman (born March 16, 1953), often known by his initials, rms , [ 4 ] is an American software freedom activist and computer programmer . He founded and leads the revolutionary free software movement . [ 1 ] [ 5 ] [ 6 ] He campaigns for the freedom to use, study, distribute and modify software; software that ensures these freedoms legally (via its license) is termed free software .
Stallman has suggested that the United States government may encourage[57][58] the use of software as a service because this would allow them to access users' data without needing a search warrant.[59][60][61] by cbear Mar 13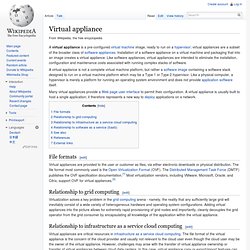 A virtual appliance is a virtual machine image designed to run on a virtualization platform (e.g., VirtualBox , Xen , VMware Workstation , Parallels Workstation ).
Virtual appliance
Software as a service ( SaaS , pronounced sæs or sɑs [ 1 ] ), sometimes referred to as "on-demand software" supplied by ISVs or "Application-Service-Providers" (ASPs), [ 2 ] is a software delivery model in which software and associated data are centrally hosted on the cloud .