Inspiration
20 Awesome HTML5 Website Templates Which Are Free. A lot had been share about HTML5 on the Internet, as it's one of the latest trending topics..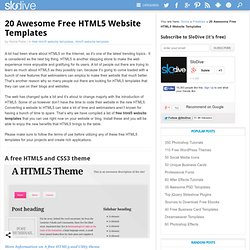 It is considered as the next big thing. HTML5 is another stepping stone to make the web experience more enjoyable and gratifying for its users. Inspitrational HTML5 Websites. Inspirational HTML5 websites that will give you ideas, inspiration for your next web project.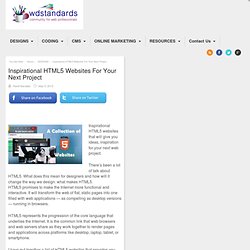 There's been a lot of talk about HTML5. What does this mean for designers and how will it change the way we design. what makes HTML5. HTML5 promises to make the Internet more functional and interactive. It will transform the web of flat, static pages into one filled with web applications — as compelling as desktop versions — running in browsers. Magazine webdesign et blog collaboratif - Blog Du Webdesign. Web of Color: Bold and Beautiful Uses of Color in Web Design. Mar 06 2012 As we look around the web, we see so many examples of designers who have brilliantly used color in web design projects to make the page or various page elements really pop.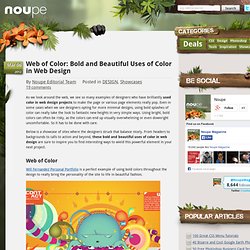 Even in some cases when we see designers opting for more minimal designs, using bold splashes of color can really take the look to fantastic new heights in very simple ways. Using bright, bold colors can often be risky, as the colors can end up visually overwhelming or even downright uncomfortable. So it has to be done with care. Templates. For any web designer/developer willing to build a quality and good-looking website quickly, Bootstrap is probably the 1st option that comes to mind.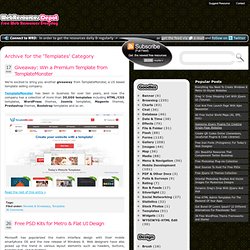 It is an impressive front-end framework with the wide range of elements + components it includes and the consistency (in means of design + functionality) of each of them. Today, we are releasing an amazing and exclusive freebie for WRD readers: a free Bootstrap template: Bootstrapper which is designed by the popular template marketplace FlashMint and comes with the HTML5-CSS3 + PSD source files. Create. 20 Creative Web Designs. Saqqara. De saqqara au Musée du Louvre : le mastaba d'Akhethétep.
40 Creative Single Page Portfolio Websites. Effective Website Designs with Dark Color Schemes. Not everyone can pull off a dark color scheme, especially for a website design.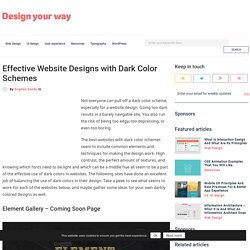 Going too dark results in a barely navigable site. You also run the risk of being too edgy, too depressing, or even too boring. The best websites with dark color schemes seem to include common elements and techniques for making the design work. High contrast, the perfect amount of textures, and knowing which fonts need to be light and which can be a middle hue all seem to be a part of the effective use of dark colors in websites.
---