CSS, HTML
Today we introduce you how to edit the inserted audio file in your flash banner with the same application which making the banner itself Here is the result: Steps: 1.
FlashAnimTricks.com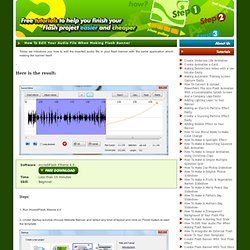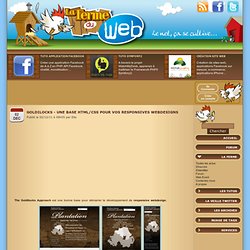 The Goldilocks Approach est une bonne base pour démarrer le développement de responsive webdesign. On ne présente plus le concept du Responsive Webdesign. The Goldilocks Approach propose un boilerplate HTML / CSS contenant les bonnes pratiques à utiliser pour avoir un design réactif suivant les résolutions écran. Contrairement aux autres frameworks CSS Responsive, cette approche permet de viser toutes les résolutions et ne pas cibler que les plus courantes. Concrètement, il s'agit d'un subtil mélange de Ems, max-width, medias queries et pattern translation.
Goldilocks - Une base HTML/CSS pour vos Responsives Webdesigns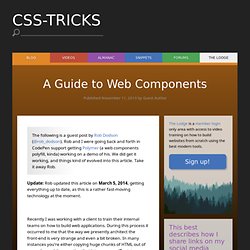 Published by Guest Author The following is a guest post by Rob Dodson (@rob_dodson). Rob and I were going back and forth in CodePen support getting Polymer (a web components polyfill, kinda) working on a demo of his. We did get it working, and things kind of evolved into this article. Take it away Rob.
A Guide to Web Components
unnamed pearl
Good responsive CSS frameworks and boilerplates are very much in demand due to the fact that they are easy to use and time savers. They save you from the trouble of writing base CSS styles etc. Many different responsive CSS frameworks and boilerplates are available out there, but finding the good and glitch free ones is not an easy task. You might be interested on HTML5 Responsive Frameworks. So in order to help you find some of the amazing ones today we have a list of 10 Amazing Responsive CSS Frameworks and Boilerplates.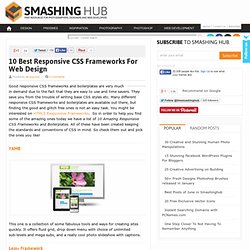 10 Best Responsive CSS Frameworks For Web Design
Fjällräven Israel is an online shop focused on selling Fjällräven bags and backpacks of different sizes and for different uses. Its clean, professional web design makes shopping an easy, pleasant experience, both quick and trust-inspiring. The homepage is extremely user-friendly, letting visitors browse the website through navigation links in the main menu on top or through image and text teasers in the bottom of the page. The Shop page is divided into four categories – from classic models to laptop bags – and in each the bags are featured in easy-to-update, thumbnail grid-styled portfolios, with linkable images on hover. Once clicked, each item opens up to reveal full product details, price and an "Add to Cart" button. In the "Models Guide" page, each model is explained alongside an image of the item.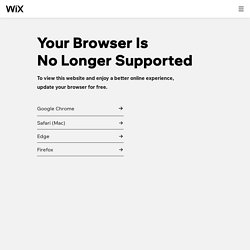 EmailShareEmailShare Like the article? Web developers are always looking for new ways to improve the speed and performance of the pages.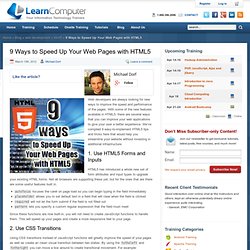 9 Ways to Speed Up Your Web Pages with HTML5
Embedding Slideshare presentations as HTML/JavaScript
Disclaimer: I'm not really going to mention any language as 'best'. The title of this post is actually very misleading. I started doing hard core web development barely a year ago, but a question I face on a daily basis is whether I'm using an optimal programming language and technology.
PriteshGupta.com | Web Design and Technology Blog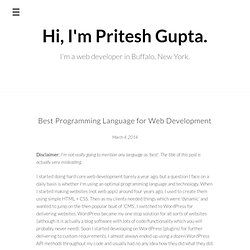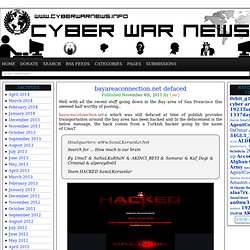 bayareaconnection.net defaced
Well with all the recent stuff going down in the Bay area of San Francisco this seemed half worthy of posting.. bayareaconnection.net which was still defaced at time of publish provides transportation around the bay area has been hacked and In the defacement is the below message, the hack comes from a Turkish hacker going by the name of UmuT Headquarters: wWw.SanaLKorsanlar.NetSearch for … How much is our brainBy UmuT & SaNaLKoRSaN & AKINCI_BEYI & Samurai & Kaf_Dagi & Criminal & alperaydin01Team HACKED SanaLKorsanlar
Writing Better HTML & CSS (Slides from FOWA London)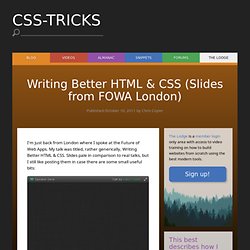 I'm just back from London where I spoke at the Future of Web Apps. My talk was titled, rather generically, Writing Better HTML & CSS. Slides pale in comparison to real talks, but I still like posting them in case there are some small useful bits: It was a three-part talk. I started high-level talking about how Wufoo handles CSS, which is a topic I'd love to hear more people talking about (i.e. medium/large companies plan / approach / architecture when it comes to front end resources).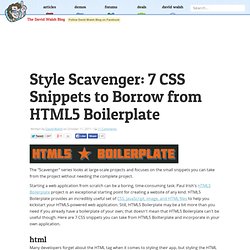 7 CSS Snippets to Borrow from HTML5 Boilerplate
The "Scavenger" series looks at large-scale projects and focuses on the small snippets you can take from the project without needing the complete project. Starting a web application from scratch can be a boring, time-consuming task. Paul Irish's HTML5 Boilerplate project is an exceptional starting point for creating a website of any kind. HTML5 Boilerplate provides an incredibly useful set of CSS, JavaScript, image, and HTML files to help you kickstart your HTML5-powered web application.
Creating new HTML5&CSS3 single page layout – Mono Today I want to introduce new great masterpiece – new template with codename: 'Mono'. This will nice HTML5/CSS3 template with nice light brown colors.
Creating 'Mono' HTML5 CSS3 Single Page Layout
How to Choose Between Canvas and SVG
Canvas and SVG are two exciting graphics features introduced in Internet Explorer 9 and are hardware accelerated. These technologies can be used to address a range of graphic scenarios on the modern Web. With a lot of excitement around Canvas, there has been a tendency to ignore SVG, which, in many cases, is the better choice. Here I offer some thoughts on when to choose Canvas, SVG, or a combination of the two. High Level Summary of Canvas and SVG
Advertisement JavaScript sliders, especially jQuery are used a lot in web designing now a days. Various ways are present in which sliders can be utilized and displayed. So today we have a list of 20 websites that use JavaScript sliders amazingly. If you want ideas and inspiration for your own website, then you should definitely check these sites out. These Are Things
20 Beautiful Web Design Using JavaScript Sliders
From the time when HTML5 was introduced in the market, web masters and internet marketers are extensively using it as compared to the previous versions of HTML. With the launch of HTML5, there comes dozen of tutorials to guide you on how to make the most of HTML5. In this roundup, we have collected top most wanted tutorials that let you master your HTML5 skills.
The Ultimate Collection of HTML5 Tutorials and Techniques
HTML5 / CSS3 / JAVASCRIPT