CSS, HTML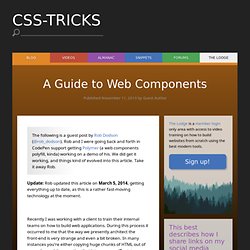 Published by Chris Coyier The following is a guest post by Rob Dodson (@rob_dodson). Rob and I were going back and forth in CodePen support getting Polymer (a web components polyfill, kinda) working on a demo of his. We did get it working, and things kind of evolved into this article. Take it away Rob.
A Guide to Web Components
unnamed pearl
Good responsive CSS frameworks and boilerplates are very much in demand due to the fact that they are easy to use and time savers. They save you from the trouble of writing base CSS styles etc. Many different responsive CSS frameworks and boilerplates are available out there, but finding the good and glitch free ones is not an easy task. You might be interested on HTML5 Responsive Frameworks . So in order to help you find some of the amazing ones today we have a list of 10 Amazing Responsive CSS Frameworks and Boilerplates.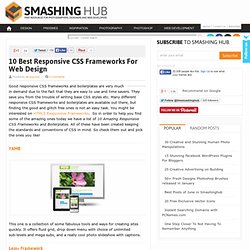 10 Best Responsive CSS Frameworks For Web Design
Email Share Email Share Like the article? Web developers are always looking for new ways to improve the speed and performance of the pages.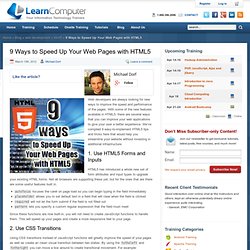 9 Ways to Speed Up Your Web Pages with HTML5
Embedding Slideshare presentations as HTML/JavaScript
PriteshGupta.com | Web Design and Technology Blog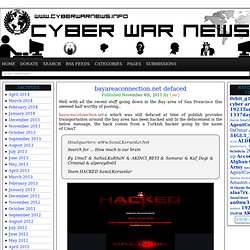 bayareaconnection.net defaced
By Lee J on Friday 4th of November 2011 at 12:10:39 am Well with all the recent stuff going down in the Bay area of San Francisco this seemed half worthy of posting.. bayareaconnection.net which was still defaced at time of publish provides transportation around the bay area has been hacked and In the defacement is the below message, the hack comes from a Turkish hacker going by the name of UmuT Headquarters: wWw.SanaLKorsanlar.Net Search for … How much is our brain By UmuT & SaNaLKoRSaN & AKINCI_BEYI & Samurai & Kaf_Dagi & Criminal & alperaydin01 Team HACKED SanaLKorsanlar
Writing Better HTML & CSS (Slides from FOWA London)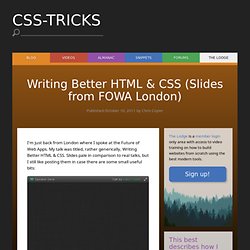 Published by Chris Coyier I'm just back from London where I spoke at the Future of Web Apps. My talk was titled, rather generically, Writing Better HTML & CSS. Slides pale in comparison to real talks, but I still like posting them in case there are some small useful bits: It was a three-part talk.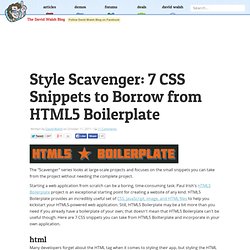 7 CSS Snippets to Borrow from HTML5 Boilerplate
The "Scavenger" series looks at large-scale projects and focuses on the small snippets you can take from the project without needing the complete project. Starting a web application from scratch can be a boring, time-consuming task. Paul Irish's HTML5 Boilerplate project is an exceptional starting point for creating a website of any kind. HTML5 Boilerplate provides an incredibly useful set of CSS, JavaScript, image, and HTML files to help you kickstart your HTML5-powered web application.
Creating new HTML5&CSS3 single page layout – Mono Today I want to introduce new great masterpiece – new template with codename: 'Mono'. This will nice HTML5/CSS3 template with nice light brown colors.
Creating 'Mono' HTML5 CSS3 Single Page Layout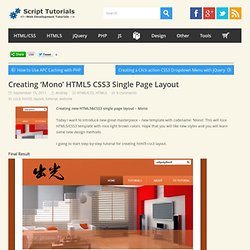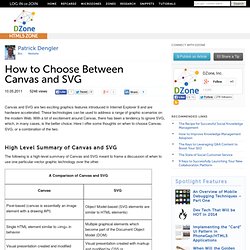 How to Choose Between Canvas and SVG
Canvas and SVG are two exciting graphics features introduced in Internet Explorer 9 and are hardware accelerated. These technologies can be used to address a range of graphic scenarios on the modern Web. With a lot of excitement around Canvas, there has been a tendency to ignore SVG, which, in many cases, is the better choice. Here I offer some thoughts on when to choose Canvas, SVG, or a combination of the two. High Level Summary of Canvas and SVG
Advertisement JavaScript sliders, especially jQuery are used a lot in web designing now a days. Various ways are present in which sliders can be utilized and displayed. So today we have a list of 20 websites that use JavaScript sliders amazingly. If you want ideas and inspiration for your own website, then you should definitely check these sites out. These Are Things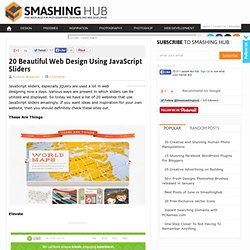 20 Beautiful Web Design Using JavaScript Sliders
Like the article? Be sure to subscribe to our RSS feed and follow us on Twitter to stay up on recent content. In this roundup, we have collected top most wanted tutorials that let you master your HTML5 skills.
The Ultimate Collection of HTML5 Tutorials and Techniques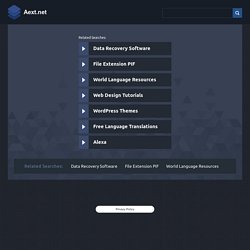 via Ad Packs animate.css is a bunch of cool, fun, and cross-browser animations for you to use in your projects. Great for emphasis, home pages, sliders, and general just-add-water-awesomeness. Create custom build or Download on Github I fight for the user. Attention seekers
HTML5 / CSS3 / JAVASCRIPT