Kyle David Group
CUPRAP | The Association of Communicators in Education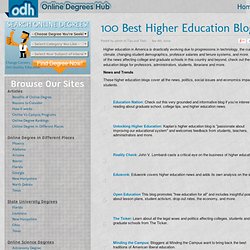 100 Best Higher Education Blogs | Online Degree Hub
Posted by admin in Tips and ToolsSep 6th, 2009 Higher education in America is drastically evolving due to progressions in technology, the current economic climate, changing student demographics, professor salaries and tenure systems, and more. To keep up with all of the news affecting college and graduate schools in this country and beyond, check out these 100 higher education blogs for professors, administrators, students, librarians and more. News and Trends These higher education blogs cover all the news, politics, social issues and economics impacting schools and students.
Educated Nation | Just another WordPress site
After over 5 years, it's time to lay this blog to rest. I haven't counted how many hundreds of posts I've written, but I'm pretty sure the final number is nicely sized. Anyone wishing to communicate in the future can use this secret code: alexaharrington@gmail.com. I've enjoyed the ride, people. Here's my favorite post of all time, so I can go out happy.
The Voice of America's Private Nonprofit Colleges and Universities Top Stories Colleges Increasing Spending on Sports Faster Than on Academics, Report Finds New York Times April 7, 2014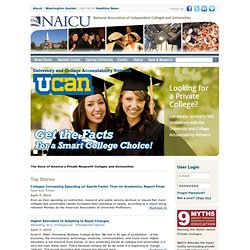 NAICU - National Association of Independent Colleges and Universities
News
Professional Website Design, Social Media Monitoring, eGovernment, Political Website Development | The Kyle David Group, LLC
Sign in to Mashable Follow