Computers
Get flash to fully experience Pearltrees
One of our Technibble forum members, PcTek9 , and a handful of other Technibble members have compiled a large list of CDs for various computer repair tasks. In this list, the following types of CD are available for download: Antivirus Boot CDs, Recovery Disks, Hardware Diagnostic Boot CDs, Network Testing/Monitoring, Data Recovery Boot CDs and Special Purpose CDs. Some of these are free to download, some are not. Be sure to read the EULA for the CD's you download and the applications you use to make sure you are allowed to use them in the manner you plan to use them in.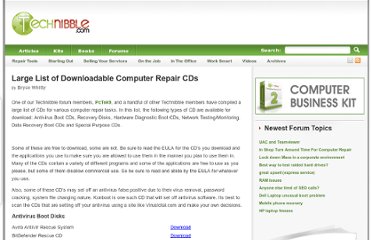 Windows and Mac OS X: Hackety Hack is an application designed to teach complete beginners how to program in Ruby, eventually giving you the ability to create actual applications for the desktop and the web. The Hackety Hack project also makes use of a GUI toolkit called Shoes , which lets you create desktop applications. Here's an example of Pong created in Shoes: Hackety Hack will walk you through Ruby basics and have you creating simple apps quickly. The Shoes toolkit isn't just for making simple apps.
It's time to update the entries in your browser's links toolbar. But with recent estimates putting the size of the internet at well more than 100 million distinct websites, it's getting harder and harder to get a handle on all the great stuff that's out there. That's why we've compiled this list. And unlike some lists you may have seen, which try to name the very "best" websites, but end up just telling you a lot of stuff you already know, we've chosen instead to highlight 50 of our favorite sites that fly under most people's radar.
May 16 2010 If you value your rapidly disappearing privacy while surfing the Internet you need to know about these tools. Whether you want to protect yourself from snoopers, want to spy on those out to get you, or want to be able to track trends that you know will lead to something big, then these tools will help you get the job done. The best part about them is they are FREE!