Travel Community Sites
BootsnAll Travel Network :: Travel Community, Travel Stories, Ch. BootsnAll's UK & Europe Travel Resources. User account | Matador Travel. Senior Editor of Matador and founding editor of the Traveler's Notebook.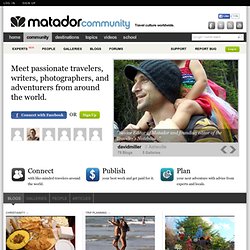 Expert Live, Love, Laugh, and Travel ! Community Manager, Contributing Editor and Social Media Manager for Matador Network Lucy is from the UK, loves sunrises and trees, and wants to travel the world with a pen and camera Twitter: @mundayjourney Verna is looking for the next adventure.
---