Sites That Teach You How To Do Stuff
Lifehacker, tips and downloads for getting things done. How to Videos, video Tutorials. SuTree - learn how to do anythin. Videojug - Get Good At Life. The world's best how to videos plus. eHow | How To Do Just About Everything! | How To Videos & Articl.
TrickLife.com. Instructables - Make, How To, and DIY. Make: Online. Sclipo - Web Learning Application. ViewDo: Know-how on-the-go now! 5min - Find the best how to, instructional and DIY videos – Life. Household Hacker - HOWTO, Gaming, and Geekdom - Latest Content f. Welcome to About.com. Squidoo : Welcome to Squidoo. Koonji. The How-to Manual That You Can Edit. HowStuffWorks - Learn How Everything Works! Knowledge Hound - The Web's biggest how-to directory!
Most of these articles come from my old website, Knowledge Hound.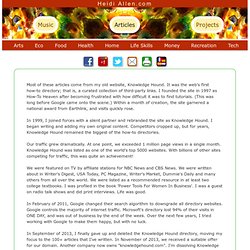 It was the web's first how-to directory; that is, a curated collection of third-party links. I founded the site in 1997 as How-To Heaven after becoming frustrated with how difficult it was to find tutorials. Sciencetoymaker. How To Videos on Howcast | The best how to videos on the web. HowtoHut | If you are looking for a howto or a tutorial, you are. SoYouWanna.com | Learn What You Wanna Do. InfoBarrel - Crowdsourcing How To Guides | Earn Money Writing. Wonder How To » How To Videos & How-To Articles.
---