Lifehacker
Ever since Lifehacker turned me on to Dropbox , it's become one of the most essential pieces in my daily workflow. Sure it syncs files extremely well, but Dropbox is an excellent tool for so much more. Dropbox, at its core, is a simple file synchronization utility that stores your data in the cloud and makes it accessible across Windows, Mac, and Linux machines—or via the web interface from any browser. What sets Dropbox apart from other file syncing tools is that changes are nearly instantaneous, uploads are blazing fast, and it just works .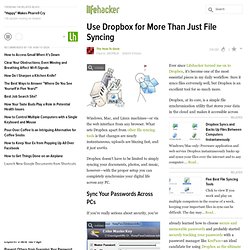 Use Dropbox for More Than Just File Syncing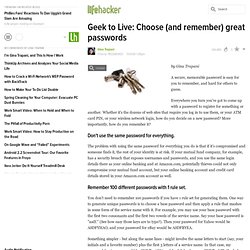 Geek to Live: Choose (and remember) great passwords
by Gina Trapani A secure, memorable password is easy for you to remember, and hard for others to guess. Everywhere you turn you've got to come up with a password to register for something or another.
How to Use Dropbox as the Ultimate Password Syncer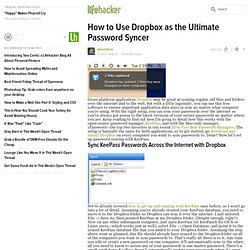 Cross-platform application Dropbox may be great at syncing regular old files and folders over the internet and to the web, but with a little ingenuity, you can use this free software to ensure important application data stays in sync no matter what computer you're using. With the right setup, you can sync your passwords over the internet so you've always got access to the latest versions of your secure passwords no matter where you are. Keep reading to find out how.I'm going to detail how this works with the open-source password manager, KeePass , and with the Mac-only manager, 1Password—the top two favorites in our recent Hive Five Best Password Managers . The setup is basically the same for both applications, so to get started, go download and install Dropbox on every computer you want to sync passwords to. Done? Now let's set up password syncing with KeePass.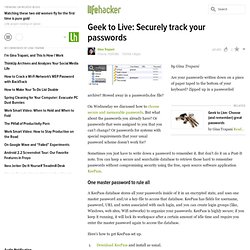 by Gina Trapani Are your passwords written down on a piece of paper taped to the bottom of your keyboard? Zipped up in a passworded archive? Stowed away in a passwords.doc file? On Wednesday we discussed how to choose secure and memorable passwords .
Geek to Live: Securely track your passwords
Windows only: Software download web site File Hippo has released a handy piece of software called Update Checker, which scans your computer's installed apps and then reports which ones could use an update. Update Checker downloads as a light .exe that you don't need to install (which means it's portable), and scans default application locations (they don't say, but I'm assuming that means only the My Programs directory). If you keep your apps in another location, you can customize locations through the settings. If you've let some of your apps get sadly out-of-date, File Hippo's Update Checker is a quick and easy way to get back up to speed. Update Checker is freeware, Windows only, requires .NET 2.0. Mac users should check out previously mentioned App Update Widget. — Adam Pash
Download of the Day: File Hippo Update Checker (Windows)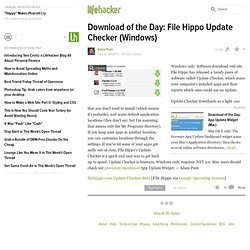 Secure your laptop with Laptop Alarm
Turn Your Webcam into a Motion-Sensing Security Camera with Yawcam
Click to view Don't let the creep who stole your computer paw through your private files, passwords and personal information. Free data protection and computer recovery service LaptopLock can keep sensitive files safe and prevent identity theft or worse after your computer's been lifted. As soon as you report your computer stolen on their web site, the free Windows-only LaptopLock agent can wipe sensitive files into oblivion, encrypt files, launch programs, track IP addresses, or even send messages to the thief. Read on to see how.
Secure your laptop with the LaptopLock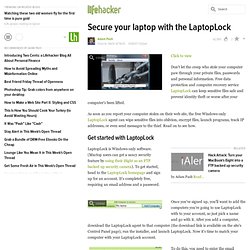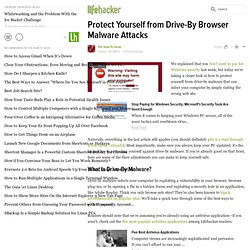 We explained that you don't need to pay for Windows security last week, but today we're taking a closer look at how to protect yourself from drive-by malware that can infect your computer by simply visiting the wrong web site. Naturally, everything in the last article still applies (you should definitely give it a read through if you haven't already ). Most importantly, make sure you always keep your PC updated; it's the biggest key to protecting yourself against drive-by malware. If you're already good on that front, here are some of the finer adjustments you can make to keep yourself safe.
Protect Yourself from Drive-By Browser Malware Attacks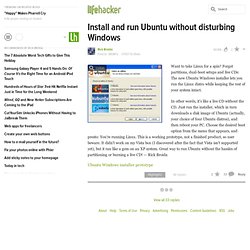 Want to take Linux for a spin? Forget partitions, dual-boot setups and live CDs: The new Ubuntu Windows installer lets you run the Linux distro while keeping the rest of your system intact. In other words, it's like a live CD without the CD. Just run the installer, which in turn downloads a disk image of Ubuntu (actually, your choice of four Ubuntu distros), and then reboot your PC. Choose the desired boot option from the menu that appears, and presto: You're running Linux. This is a working prototype, not a finished product, so user beware.
Install and run Ubuntu without disturbing Windows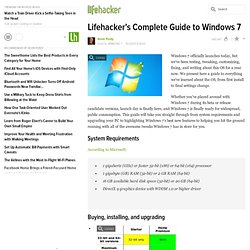 s Complete Guide to Windows 7
Windows 7 officially launches today, but we've been testing, tweaking, customizing, fixing, and writing about this OS for a year now. We present here a guide to everything we've learned about the OS, from first install to final settings change. Whether you've played around with Windows 7 during its beta or release candidate versions, launch day is finally here, and Windows 7 is finally ready for widespread, public consumption. This guide will take you straight through from system requirements and upgrading your PC to highlighting Windows 7's best new features to helping you hit the ground running with all of the awesome tweaks Windows 7 has in store for you. System Requirements
Top 10 Strategies for Surviving Airports and Airplanes
You've packed your things and made it to the airport—now the real fun begins. Want a better way of protecting your stuff, getting online, and cutting through red tape? Try these 10 tips for a better air travel experience. Photo by B Rosen .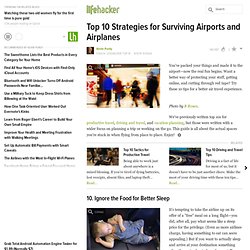 If you really want to get down to business and get things done, you need to create an environment conducive to productivity. I do it by eliminating everything that might distract me from accomplishing what I want. The goal of creating a minimalist desktop is to eliminate the distractions and focus on just the tools that you need to actually get things done. Today we'll take a look at how you can set up your PC to focus on the tools that get things done. Clear Off Your Desktop
Create a Minimalist "Undesktop" for Distraction-Free Productivity
You Don't Need to Regularly Reinstall Windows; Here's Why
One of the most persistent myths about Windows is that you need to reinstall the operating system regularly to keep it running at top performance. Let's take a look at the real problem and how to fix it. Today we're talking about the myth that Windows slows down over time, and how to solve the problem.
The final version of Windows 7 is being released this week to the general public, and after you get your hands on it the first thing you'll need to know is: Do all my tweaks still work? If you haven't already made the switch over to Windows 7, be sure to check out our guide to upgrading to the Windows 7 RC , which should still be applicable for the final release. If you aren't sure whether you want to make the switch full-time, you can always setup a dual-boot with Vista or XP . Disable Shortcut Icon Arrows
The Best Windows Tweaks that Still Work in Windows 7
How to Thief-Proof Your Laptop
PC World magazine rounds up eight tips to stop thieves from stealing your laptop, the most obvious-yet-effective of which is simply locking it up. Apart from their suggestion that you encrypt your hard drive (we'd recommend the cross-platform TrueCrypt for that), all of their suggestions require you to throw down a bit of cash. If you're not up to spending any money but you still want to beef up your laptop security, hit the jump for a look at a few no-cost solutions for guarding your laptop against thieves. Windows freeware app LaptopLock integrates with the LaptopLock web site to bring added file security, stolen notifications, and tracking of your stolen laptop . LaptopLock isn't much of an alarm system, but you may be glad you installed it if your laptop is ever stolen. Turn your motion-sensing MacBook into an FTP-backed-up security camera using MacBook alarm system iAlertU ( original post ).
Set Up a Foolproof and Fireproof Automatic Backup Plan
The sweet spot of a foolproof hard drive backup plan includes local backup to an external drive and off-site backup to the cloud. The problem: Most people don't do it. Here's a set-it-and-forget-it, step-by-step guide to backing up your data. Photo by ArtMast . You'll find no shortage of ways to backup your data—to other hard drives, to network drives, to external drives, to the cloud, to your neighbor's house, to a data center in Houston, etc.
Set Up Space-Saving, Permanent Gmail and Reader Tabs in Firefox
Five Best Windows Firewalls
Nine Common Myths and Misconceptions About Viruses, Examined and Debunked
Five Best Book Recommendation Services
Learn a language with open source software
Five Best Antivirus Applications
The Definitive Guide to Finding Free Wi-Fi
How to Stay Safe on Public Wi-Fi Networks
Hive Five Winner for Best Mind Mapping Software: FreeMind
Use the Multi-Stash Method to Keep Your Travel Cash Safe
Top 10 Downloads for a Road Warrior Laptop
The Geek's Vacation Checklist
Hot Image Your PC's Hard Drive with DriveImage XML
How to Encrypt and Hide Your Entire Operating System from Prying Eyes
Resolved: Keep Your PC Clean, Safe, and Backed Up in 2010
Top 10 Hulu Hacks and Power User Tips
Five Best Password Managers
Five Best PDF Readers
Open source software bonanza
Windows 7 Lets You Finally Uninstall Internet Explorer (Kinda)
Top 10 Windows Applications that Should Be on Macs
Top 10 Tactics for Productive Travel