Lifehacker
I can't give enough praise to Dropbox. As a web designer working from many different computers on many different website I simply couldn't live without it. I use a combination of Notepad++, Bitvise Tunnelier, FileZilla, and the Gimp portable. All of my profiles for Tunnelier and FileZilla are stored on my profile and can even be password protected if I want extra security.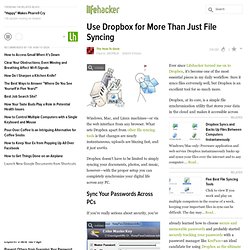 Use Dropbox for More Than Just File Syncing
Geek to Live: Choose (and remember) great passwords
How to Use Dropbox as the Ultimate Password Syncer
Geek to Live: Securely track your passwords
Download of the Day: File Hippo Update Checker (Windows)
Secure your laptop with Laptop Alarm
I wish I this when I pulled off the perfect revenge. A couple of years ago I noticed that the Altoids in my desk drawer were dissappearing. Unsure, I counted them one night, and yup, someone's grubby fingers were going into my drawer, opening up the tin, and stealing my eats sometime during the night.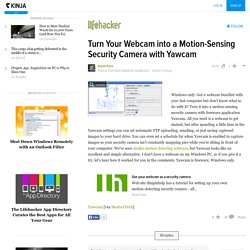 Turn Your Webcam into a Motion-Sensing Security Camera with Yawcam
Secure your laptop with the LaptopLock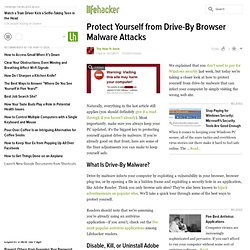 SExpand We explained that you don't need to pay for Windows security last week, but today we're taking a closer look at how to protect yourself from drive-by malware that can infect your computer by simply visiting the wrong web site.P Naturally, everything in the last article still applies (you should definitely give it a read through if you haven't already).
Protect Yourself from Drive-By Browser Malware Attacks
Install and run Ubuntu without disturbing Windows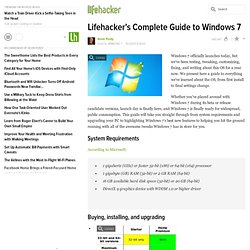 s Complete Guide to Windows 7
@cjmazur: How short-sighted and prejudice can an Apple fanboi get!? "Looking at Microsoft's history with operating system launches, let's look at the possible outcome." I mean I know it's not uncommon for you guys to crotch-nurse from 'ol Stevie, but is it possible for you to come up with an original thought of your own without regurgitating the BS that Apple commercials feed you? Ok, ok assuming you're not just spewing Apple's new propaganda commercial to the threads, do you honestly not realize how prejudice & bigoted you sound? Do you also look at someone's name see it's German and immediately assume that looking at their nationality's history that person will commit genocide against a whole people?
Top 10 Strategies for Surviving Airports and Airplanes
Excellent tips, I have a couple others to add to it though. Dress Well: Seriously, this is a huge one. Want to avoid crap in the security checkpoints? Want to get treated a little better?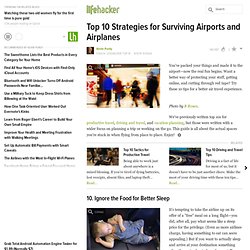 Create a Minimalist "Undesktop" for Distraction-Free Productivity
You Don't Need to Regularly Reinstall Windows; Here's Why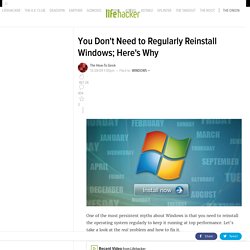 There's a lot of missing points in here that should be addressed... Page files tend to get plopped in the middle of a hard drive and without pain-in-the-nuts software, can't be moved (only grow). The same holds true for larger files that defrag can't handle.
The Best Windows Tweaks that Still Work in Windows 7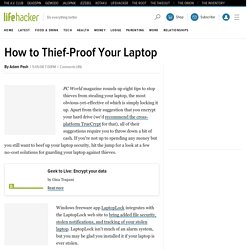 How to Thief-Proof Your Laptop
Sometimes there's just no predicting when your stuff will be taken. Two months ago, my laptop was stolen when some crackhead broke into my apartment and walked off with all my data, my class project (due that weekend) and years collections worth of photos and music. The one thing I wish I did do was write down my laptop serial number somewhere. I thought I had, but I rifled through all my documentation and found nothing. :( If you call your laptop's manufacturer, they will inform you if it had been sent in for repairs, or if you walk into thrift shops you can present it to them to prove that its yours. Police can use it to identify your laptop too. Luckily, I had at least password protected windows, so assuming the crackhead was not computer savvy, he probably was unable to get to my info (but I filed an identity fraud notice to the credit agencies just in case).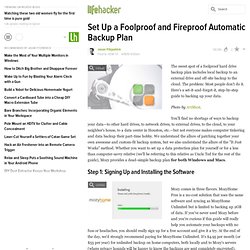 Set Up a Foolproof and Fireproof Automatic Backup Plan
@AmphetamineCrown: If ALL your data is "mission critical" then yes, several weeks to recover is useless. (though BackBlaze, prices same as mozy, offers to put your data on disks or drives and ship them to you overnight, not bad, and you keep the HDDs you buy if you need to, and they're reasonably priced). However, how much of your data matters NOW? 2GB, 5GB, 30GB? I seriously doubt your 2TB of movies are mission critical.
Set Up Space-Saving, Permanent Gmail and Reader Tabs in Firefox
Five Best Windows Firewalls
Nine Common Myths and Misconceptions About Viruses, Examined and Debunked
Five Best Book Recommendation Services
Amazon book recs usually don't work out the same for me, probably because they're based on what they've sold instead of what people have liked. GoodReads is what I use to track my collection, it's great, but not so much for recommendations, they're pretty hit or miss. LibraryThing actually is pretty accurate, still has a lot of reviews (not tons of them, which is a little suspicious sometimes for a new book, as GoodReads), and the automated recommendations works pretty well. Too bad for a "big" collection you have to pay and the site isn't as nice to use as GoodReads.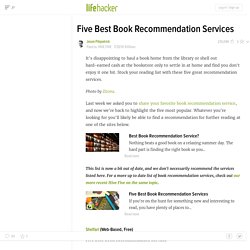 How to Get Started with Usenet in Three Simple Steps
@oat: My biggest issue with using usenet has been the constant need for more drive space. I have almost 5TB filled up right now, and this is just with items specifically culled and considered "best in genre" @oat: doesn't mb/s = mbps? I think what you meant was mB/s or mBps.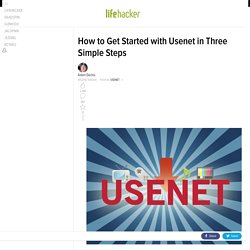 Learn a language with open source software
None of the above! [xkcd.com] Seriously, though, I haven't actually used an anti-virus since 1997 or so. I keep one installed in Windows just in case (Norton before, AVG now), but I disable it and only use it when I want to scan a file I already suspect of being infected. It's not an option for an average user, and I wouldn't suggest it for everyone, but a bit of sense combined with regular security updates and a separate firewall (such as on a decent router) is perfectly fine. AV products are a great way to turn a fast PC into a slow one, especially if they scan everything you do as you do it.
Five Best Antivirus Applications
Great article. A few caveats, though, that I've found in my personal experiences (of course, these ARE just my personal experiences, your mileage may vary). I've done a lot of air travel this summer, and I have been in a total of ONE airport that had free wi-fi. Everything else was pay-for-access.
The Definitive Guide to Finding Free Wi-Fi
How to Stay Safe on Public Wi-Fi Networks
SExpand Starbucks is offering free Wi-Fi to all customers, at every location, starting today. Whether you're clicking connect on Starbucks' Wi-Fi or some other unsecured, public Wi-Fi network, here's how to stay safe and secure while surfing a public hotspot.P
Hive Five Winner for Best Mind Mapping Software: FreeMind
Use the Multi-Stash Method to Keep Your Travel Cash Safe
To make it difficult for pick pockets men can do 3 simple things. - wallet in a front pocket - wrap the wallet with a rubber band to increase friction - Don't wear really lose fitting pants
Top 10 Downloads for a Road Warrior Laptop
The Geek's Vacation Checklist
Hot Image Your PC's Hard Drive with DriveImage XML
How to Encrypt and Hide Your Entire Operating System from Prying Eyes
Resolved: Keep Your PC Clean, Safe, and Backed Up in 2010
Top 10 Hulu Hacks and Power User Tips
Pack for Linux: Our List of the Best Linux Downloads
Five Best Password Managers
Five Best PDF Readers
Open source software bonanza
Windows 7 Lets You Finally Uninstall Internet Explorer (Kinda)
Top 10 Windows Applications that Should Be on Macs
Pack 2010: Our List of Essential Windows Downloads
Top 10 Tactics for Productive Travel