Lifehacker
SExpand Ever since Lifehacker turned me on to Dropbox, it's become one of the most essential pieces in my daily workflow. Sure it syncs files extremely well, but Dropbox is an excellent tool for so much more. Dropbox, at its core, is a simple file synchronization utility that stores your data in the cloud and makes it accessible across Windows, Mac, and Linux machines—or via the web interface from any browser.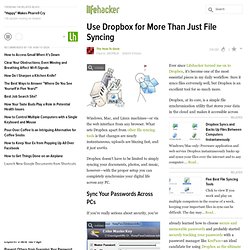 Use Dropbox for More Than Just File Syncing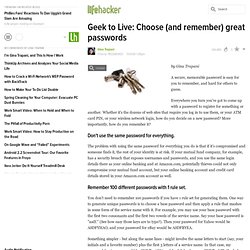 Geek to Live: Choose (and remember) great passwords
SExpand by Gina Trapani A secure, memorable password is easy for you to remember, and hard for others to guess.
How to Use Dropbox as the Ultimate Password Syncer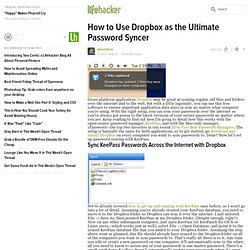 Cross-platform application Dropbox may be great at syncing regular old files and folders over the internet and to the web, but with a little ingenuity, you can use this free software to ensure important application data stays in sync no matter what computer you're using. With the right setup, you can sync your passwords over the internet so you've always got access to the latest versions of your secure passwords no matter where you are. Keep reading to find out how.I'm going to detail how this works with the open-source password manager, KeePass, and with the Mac-only manager, 1Password—the top two favorites in our recent Hive Five Best Password Managers. The setup is basically the same for both applications, so to get started, go download and install Dropbox on every computer you want to sync passwords to. Done? Now let's set up password syncing with KeePass.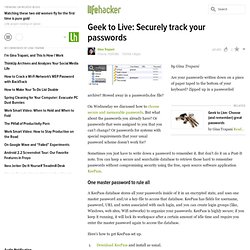 KeePass is also a great place to store other (semi)confidential information about you and your family that you may want to have accessible anywhere: -Passport number -Drivers License number -Credit card numbers, with expiration dates, security codes, and toll-free support numbers -Bank account and routing numbers
Geek to Live: Securely track your passwords
For the love of GOD, when will there be a universal way to do this with webservices for all programs on all OSes? I dunno, but in my mind, this is a fairly straight forward concept. If all programs just added a URI akin to an rss feed where version numbers could be posted (maybe even with a small changelog) into a central repository on your computer that could be checked for updates randomly, that would be great. Your computer looks at the available version number, compares it to yours, and then asks you if you want to update. Why can't it be that simple (as a programmer, I know, I'm just venting)? I have the Cnet account that emails me with things on my list that have been updated (only for Cnet), this new FileHippo updater (only for FileHippo), some programs that have their own autoupdate functions, Microsoft Update, and programs that seem to be oblivious that the internet even exists.
Download of the Day: File Hippo Update Checker (Windows)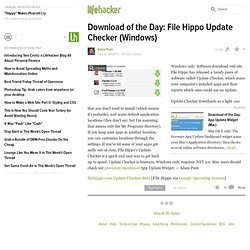 Secure your laptop with Laptop Alarm
I wish I this when I pulled off the perfect revenge. A couple of years ago I noticed that the Altoids in my desk drawer were dissappearing. Unsure, I counted them one night, and yup, someone's grubby fingers were going into my drawer, opening up the tin, and stealing my eats sometime during the night.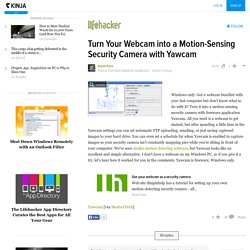 Turn Your Webcam into a Motion-Sensing Security Camera with Yawcam
SExpand Click to view Don't let the creep who stole your computer paw through your private files, passwords and personal information. Free data protection and computer recovery service LaptopLock can keep sensitive files safe and prevent identity theft or worse after your computer's been lifted. As soon as you report your computer stolen on their web site, the free Windows-only LaptopLock agent can wipe sensitive files into oblivion, encrypt files, launch programs, track IP addresses, or even send messages to the thief.
Secure your laptop with the LaptopLock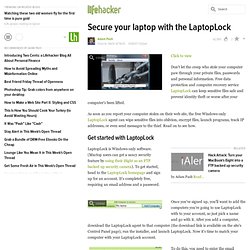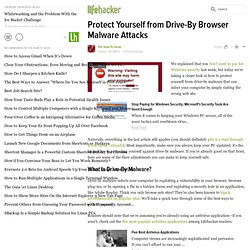 SExpand We explained that you don't need to pay for Windows security last week, but today we're taking a closer look at how to protect yourself from drive-by malware that can infect your computer by simply visiting the wrong web site. Naturally, everything in the last article still applies (you should definitely give it a read through if you haven't already). Most importantly, make sure you always keep your PC updated; it's the biggest key to protecting yourself against drive-by malware.
Protect Yourself from Drive-By Browser Malware Attacks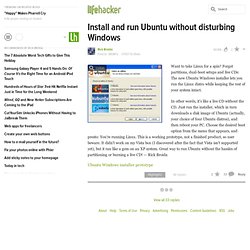 This is a brilliant idea. I've been trying to get a Linux installation to work several times the last few years, but always given up, or worse, destroyed my computer in the process. With this program I didn't have to make a partition (which is great on a laptop, where there's only one partition, the one containing Windows). My only disappointment is that Ubuntu seems slower than Windows XP on my old Intel Centrino 1.6 GHz laptop. One of the reasons why I wanted to switch, was the hope that my old laptop would get a new chance to shine. Simply opening up more than 10 tabs in Opera, or trying to play a moviefile, requires several minutes of processing time (during which I cannot do anything but wait), and tasks like this I can do in Windows in seconds.
Install and run Ubuntu without disturbing Windows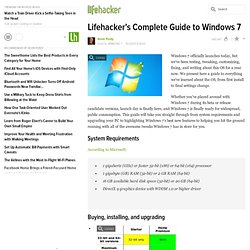 s Complete Guide to Windows 7
@cjmazur: How short-sighted and prejudice can an Apple fanboi get!? "Looking at Microsoft's history with operating system launches, let's look at the possible outcome." I mean I know it's not uncommon for you guys to crotch-nurse from 'ol Stevie, but is it possible for you to come up with an original thought of your own without regurgitating the BS that Apple commercials feed you? Ok, ok assuming you're not just spewing Apple's new propaganda commercial to the threads, do you honestly not realize how prejudice & bigoted you sound? Do you also look at someone's name see it's German and immediately assume that looking at their nationality's history that person will commit genocide against a whole people?
Top 10 Strategies for Surviving Airports and Airplanes
SExpand You've packed your things and made it to the airport—now the real fun begins. Want a better way of protecting your stuff, getting online, and cutting through red tape? Try these 10 tips for a better air travel experience.
SExpand If you really want to get down to business and get things done, you need to create an environment conducive to productivity. I do it by eliminating everything that might distract me from accomplishing what I want. The goal of creating a minimalist desktop is to eliminate the distractions and focus on just the tools that you need to actually get things done. Today we'll take a look at how you can set up your PC to focus on the tools that get things done.
Create a Minimalist "Undesktop" for Distraction-Free Productivity
You Don't Need to Regularly Reinstall Windows; Here's Why
There's a lot of missing points in here that should be addressed... Page files tend to get plopped in the middle of a hard drive and without pain-in-the-nuts software, can't be moved (only grow). The same holds true for larger files that defrag can't handle.
SExpand The final version of Windows 7 is being released this week to the general public, and after you get your hands on it the first thing you'll need to know is: Do all my tweaks still work? If you haven't already made the switch over to Windows 7, be sure to check out our guide to upgrading to the Windows 7 RC, which should still be applicable for the final release. If you aren't sure whether you want to make the switch full-time, you can always setup a dual-boot with Vista or XP.
The Best Windows Tweaks that Still Work in Windows 7
How to Thief-Proof Your Laptop
Sometimes there's just no predicting when your stuff will be taken. Two months ago, my laptop was stolen when some crackhead broke into my apartment and walked off with all my data, my class project (due that weekend) and years collections worth of photos and music. The one thing I wish I did do was write down my laptop serial number somewhere. I thought I had, but I rifled through all my documentation and found nothing. :( If you call your laptop's manufacturer, they will inform you if it had been sent in for repairs, or if you walk into thrift shops you can present it to them to prove that its yours. Police can use it to identify your laptop too. Luckily, I had at least password protected windows, so assuming the crackhead was not computer savvy, he probably was unable to get to my info (but I filed an identity fraud notice to the credit agencies just in case).
Set Up a Foolproof and Fireproof Automatic Backup Plan
Set Up Space-Saving, Permanent Gmail and Reader Tabs in Firefox
Five Best Windows Firewalls
Nine Common Myths and Misconceptions About Viruses, Examined and Debunked
Five Best Book Recommendation Services
How to Get Started with Usenet in Three Simple Steps
Learn a language with open source software
Five Best Antivirus Applications
The Definitive Guide to Finding Free Wi-Fi
How to Stay Safe on Public Wi-Fi Networks
Hive Five Winner for Best Mind Mapping Software: FreeMind
Use the Multi-Stash Method to Keep Your Travel Cash Safe
Top 10 Downloads for a Road Warrior Laptop
The Geek's Vacation Checklist
Hot Image Your PC's Hard Drive with DriveImage XML
How to Encrypt and Hide Your Entire Operating System from Prying Eyes
Resolved: Keep Your PC Clean, Safe, and Backed Up in 2010
Top 10 Hulu Hacks and Power User Tips
Pack for Linux: Our List of the Best Linux Downloads
Five Best Password Managers
Five Best PDF Readers
Open source software bonanza
Windows 7 Lets You Finally Uninstall Internet Explorer (Kinda)
Top 10 Windows Applications that Should Be on Macs
Pack 2010: Our List of Essential Windows Downloads
Top 10 Tactics for Productive Travel