Survey & Polling Tools
This Pearltree began with links from Richard Byrne's Free Technology 4 Teachers blog in a post dated 2/28/12. Please feel free to pick from this tree and perhaps we can collaborate on a Super-Peartree! Feb 28
easy online dot voting -- no registration needed
SurveyTeacher - Online Surveys for Educators
This privacy statement discloses the privacy practices for the SurveyTeacher website and agrees to notify you of: 1. What personally identifiable information of yours or third party personally identification is collected from you through the web site 2. The organization collecting the information 3.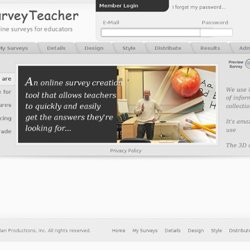 Kwiqpoll - Simple Web Polls
Professional look and feel Poll Everywhere gives you the power to design and customize polls to your own specifications. Match your presentation template, use your organization's logo and color scheme, or let your own imagination run wild.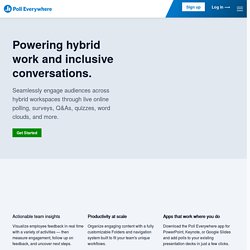 Clip Choose - Which Video Do You Choose?
PollSnack is the easiest online tool for polls & surveys, allowing you to create and conduct market questionnaires without having to learn complicated software. Also, the reporting is very simple and straightforward, with results being displayed in real-time. With PollSnack you can: - customize the look of your poll and survey widgets - create polls and surveys in any language you wish - embed polls in your website - store your data securely for an indefinite amount of time - export your data as CSV Because of its flexibility and ease of use, PollSnack can be used by bloggers who want to set up a web poll, marketers and product managers who wish to conduct an online survey, as well as social networking users who want to create a personality quiz of their own.