Survey & Polling Tools
This Pearltree began with links from Richard Byrne's Free Technology 4 Teachers blog in a post dated 2/28/12. Please feel free to pick from this tree and perhaps we can collaborate on a Super-Peartree!
Poll - Do high taxes make for better education? How to: Voting on a poll You rate each of the items on the right-hand side of the page by clicking in an appropriate place on the scatter graph.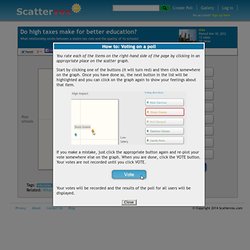 Start by clicking one of the buttons (it will turn red) and then click somewhere on the graph. Once you have done so, the next button in the list will be highlighted and you can click on the graph again to show your feelings about that item. If you make a mistake, just click the appropriate button again and re-plot your vote somewhere else on the graph. Easy online dot voting -- no registration needed. Create a free poll - Instant & easy. No sign up | Pollcode. SurveyTeacher - Online Surveys for Educators.
Kwiqpoll - Simple Web Polls. Text Message (SMS) Polls and Voting, Audience Response System. Clip Choose - Which Video Do You Choose? KwikSurveys: Offical Free online survey & questionnaire tool. Online survey software - conduct your customer surveys and polls with Polldaddy | Polldaddy.com. Obsurvey. Get a free poll for your website - Vorbeo.com. Yarp : Simple Invitations and Surveys. Pollmo Polls - The simplest polls on the web. QuizSnack | Online survey software, web poll & questionnaire tool.
Flisti - Create free online polls without signing-up. Free Web Polls - Online Polls - Free Online Poll - MicroPoll.
---