Reading Resources for ELLs
Cloze test creator. Worldcrunch - All News is Global. All Voices. Breaking News English Lessons: ESL Plans Teaching Current Events. 10 Ways to Support English Language Learning With The New York Times. Many people don't realize that The New York Times can be quite accessible for English Language Learners.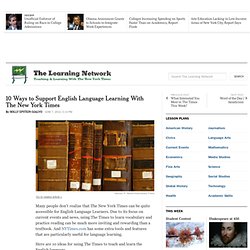 Due to its focus on current events and news, using The Times to learn vocabulary and practice reading can be much more inviting and rewarding than a textbook. And NYTimes.com has some extra tools and features that are particularly useful for language learning. Here are 10 ideas for using The Times to teach and learn the English language. 1.
The Week Magazine Education Program. Drama in the ESL Classroom - Home. Awesome Stories.
---