Common Core Resources
Common Core Toolkit. ReadWorks.org. Common Core and 21st Century Standards. Steal These Tools.
Xolp - home. Tasks, Units & Student Work - Common Core Library. Keywords (optional) Enter keywords (e.g., K.OA.3, informational text, arguments, quadratic equations, etc.)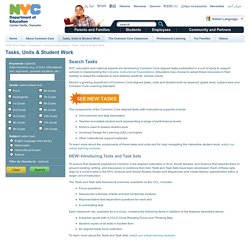 Grade (select at least one) Subject (select one) Global Community. Project: Literature Circles Students work in small groups reading a novel and assuming various roles in the Literature Circle in order to demonstrate their understanding of the novel and share...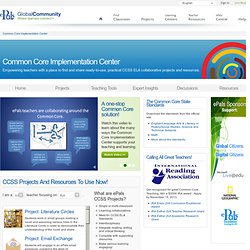 Project: Email Exchange Students will engage in an ePals email exchange, practicing the skills of collaboration and communication while building friendships and learning about the daily lives and cultures of others around the world. Teacher Resources. The Library of Congress offers classroom materials and professional development to help teachers effectively use primary sources from the Library's vast digital collections in their teaching.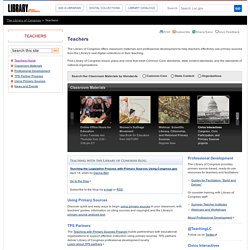 Find Library of Congress lesson plans and more that meet Common Core standards, state content standards, and the standards of national organizations. Using Primary Sources Discover quick and easy ways to begin using primary sources in your classroom, with teachers' guides, information on citing sources and copyright, and the Library's primary source analysis tool. TPS Partners The Teaching with Primary Sources Program builds partnerships with educational organizations to support effective instruction using primary sources. EduCore - Tools for Teaching the Common Core - ASCD. Michigan Online Resources for Educators - Browse Resources. Common Core. Common Core. Your Common Core Secret Weapon. Educators. Www.achieve.org/files/CCSS-CTE-Task-Alignment-Packet.pdf. Hawaii Standards Database :: Common Core State Standards.
BSHSCommonCore - home. Florida VCM Marketplace. Www.parcconline.org/sites/parcc/files/Common_Core_Workbook.pdf. Frequently Asked Questions About The Common Core State Standards. Educators in Search of Common-Core Resources. Common Core Resources for Teachers. Last week, reported on the frustration teachers are facing as they begin designing lessons around Common Core priorities—teacher resources are either scarce, or hard to find.
This week, ASCD convened Colorado educators to discuss Common Core implementation, and classroom teachers in Colorado echoed similar concerns over accessible teaching resources. ASCD continues to mine and create free resources to help teachers integrate the Common Core State Standards in their classrooms. Here's a collection of sites and supporting materials: Common Core Library - Common Core Library. Downloads/CoreStand_Ebook_1.0.pdf. Common Core Support Tools. Below you will find unpacking standards documents to support teachers in their understanding of the common core and essential standards.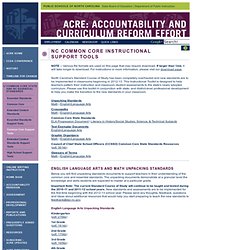 The unpacking documents demonstrate at a granular level the knowledge and skills students are expected to master at a particular grade. Important Note: The current Standard Course of Study will continue to be taught and tested during the 2010-11 and 2011-12 school years. New standards and assessments are to be implemented for the first time beginning with the 2012-13 school year. Please send any thoughts, feedback, questions and ideas about additional resources that would help you start preparing to teach the new standards to feedback@dpi.nc.gov. English Language Arts Unpacking Standards. Common Core - Resources. IRA released a letter of support in June 2013 for the position taken by the Learning First Alliance on the need for an extended transition to full implementation of the Common Core State Standards before CCSS-based assessments begin.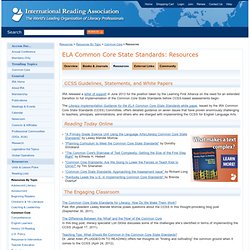 The Literacy Implementation Guidance for the ELA Common Core State Standards white paper, issued by the IRA Common Core State Standards (CCSS) Committee, offers detailed guidance on seven issues that have proven enormously challenging to teachers, principals, administrators, and others who are charged with implementing the CCSS for English Language Arts. The Common Core State Standards for Literacy: How Do We Make Them Work? Past IRA president Lesley Mandel Morrow poses questions about the CCSS in this thought-provoking blog post (September 30, 2011). Common Core. Common Core. ORG.
Building on the best of existing state standards, the Common Core State Standards provide clear and consistent learning goals to help prepare students for college, career, and life.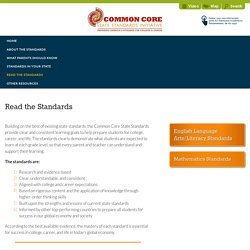 The standards clearly demonstrate what students are expected to learn at each grade level, so that every parent and teacher can understand and support their learning. The standards are: Research and evidence basedClear, understandable, and consistentAligned with college and career expectationsBased on rigorous content and the application of knowledge through higher-order thinking skillsBuilt upon the strengths and lessons of current state standardsInformed by other top-performing countries to prepare all students for success in our global economy and society According to the best available evidence, the mastery of each standard is essential for success in college, career, and life in today's global economy.
LiveBinder-School Library & CCSS. Parents' Guide to the CCSS. Currently, each state has a separate set of education standards, lists of skills that students are expected to do by the time they graduate each grade.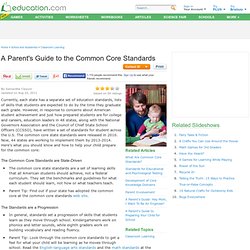 However, in response to concerns about American student achievement and just how prepared students are for college and careers, education leaders in 48 states, along with the National Governors Association and the Council of Chief State School Officers (CCSSO), have written a set of standards for student across the U.S. The common core state standards were released in 2010.
---