Socialmedia
Blogs. 105 Twitter Apps for PR. Twitter is no longer a little known platform for bloggers to communicate on.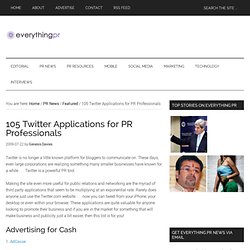 These days, even large corporations are realizing something many smaller businesses have known for a while . . . Twitter is a powerful PR tool. Making the site even more useful for public relations and networking are the myriad of third party applications that seem to be multiplying at an exponential rate. Rarely does anyone just use the Twitter.com website . . . now you can tweet from your iPhone, your desktop or even within your browser. How Big is Facebook? Mark Ghuneim, (@mediaeater) is the Founder/CEO of digital marketing agency and technology incubator Wiredset and social media tracking service Trendrr.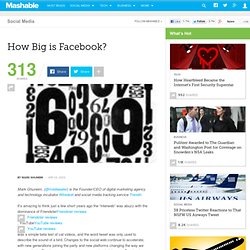 It's amazing to think just a few short years ago the "interweb" was abuzz with the dominance of FriendsterFriendster reviews , YouTubeYouTube reviews. Looking for Mr. Goodtweet: How to Pick. At 10:15 pm I discovered that I had not brought a Macbook power supply on the trip.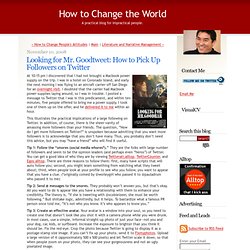 I was in a hotel on Coronado Island, and early the next morning I was flying to an aircraft carrier off San Diego for an overnight visit. I doubted that the carrier had Macbook power supplies laying around, so I was in trouble. I posted a message to Twitter that I was in this predicament, and within ten minutes, five people offered to bring me a power supply. How to Really Use Twitter (and not annoy your followers) « The F. At Last: A Twitter Handbook!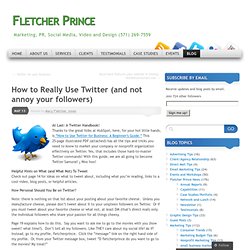 Thanks to the great folks at HubSpot, here, for your hot little hands, is "How to Use Twitter for Business: A Beginner's Guide." This 25-page illustrated PDF (attached) has all the tips and tricks you need to know to market your company or nonprofit organization effectively on Twitter. Yes, that includes those hard-to-master Twitter commands!
With this guide, we are all going to become Twitter Samurai! Woo hoo! Premier Social Media. All You Need to Know to Tweet on Twitter. Revision3.
---