Lifestyle
By Gary Hamel The experience of growing up online will profoundly shape the workplace expectations of "Generation F" – the Facebook Generation. At a minimum, they'll expect the social environment of work to reflect the social context of the Web, rather than as is currently the case, a mid-20th-century Weberian bureaucracy. If your company hopes to attract the most creative and energetic members of Gen F, it will need to understand these Internet-derived expectations, and then reinvent its management practices accordingly.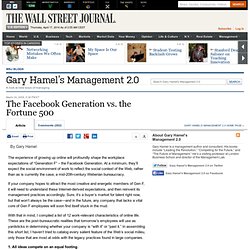 Kineda - Lifestyle and Entertainment
Konnichiwa Series III All of Kineda's collection are available here, to view, enjoy and to buy. Plus, you can keep abreast of our news, and meet some of our fans and friends. Whether it's style, entertainment, art, photography, or girls, there is always inspiration to be found. Often imitated, never rivaled, we will always strive to innovate, surprise and push boundaries in streetwear design.