Fonts
HVD Fonts
misprinted type 3.0_ art, design and type (1998-2005) Eduardo Re
It has been a while since I last updated Misprinted Type, so I have so many new works, fonts and goodies updated! I released 3 new Commercial Typefaces: Mercy, Revanche and Grandpas Typewriter. Also, there is a new freeware font: Top Secret, which is a stamp-like effect typeface. Appart from this, I have several new works under Personal Works and also lots of new Commercial works into my new section "Commercial Works".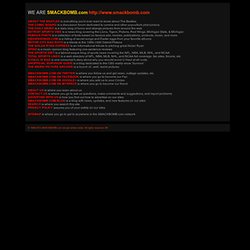 Welcome to SMACKBOMB.com
ABOUT THE BEATLES is everything you'd ever want to know about The Beatles The Comic Board is a discussion forum dedicated to comics and other popculture phenomena The Daily Weird is a daily blog of funny and strange pictures from around the web Detroit Sports Vibe is a news blog covering the Lions, Tigers, Pistons, Red Wings, Michigan State, & Michigan Famous Fonts is a collection of fonts based on famous ads, movies, publications, products, music, and more HiddenSongs.com is a listing of secret songs and Easter eggs from your favorite albums Motor City Bad Boys is a tribute to the 1989-1990 Detroit Pistons The Nolan Ryan Express is an informational tribute to pitching great Nolan Ryan Opinz is a music opinion blog featuring one-sentence reviews The Sports Dirt is a tabloid-esque blog of sports news covering the NFL, NBA, MLB, NHL, and NCAA Total Sports Links is a web directory of NFL, NBA, MLB, NHL, and NCAA full coverage, fan sites, forums, etc.