Stereogum
Download Stereogum's Cruel Summer 2011 Mix. Here's the sequel to last year's popular heartbreak of a mixtape, Cruel Summer.
That one was worn, forlorn, and sexual, it was the soundtrack arc to your winter romance burning up and melting in the hot, hormonal sun. This year it's just a party, really, soundtracked once again by some of the very best and most summery (free and legal) songs of the year. Monthly Mix: August 2011. We took last month off from our Monthly Mix series in favor of our midterm flashback/annual summer jams compilation Cruel Summer, which you should grab if you haven't.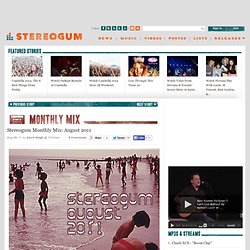 But it is a new month — the last one of Summer 2011 — so here's a filtered recap of the month's finest free MP3s. Use it to soundtrack your final rooftop parties, your last picnics, the season's closing bike rides (though not in NYC you will get a ticket for that shit). M83 to Neon Indian, Drake to Inc., elite gymnastics to Girls, the Rapture, Youth Lagoon. More. Presents… STROKED: A Tribute To Is This It. Credit: Stereogum Presents...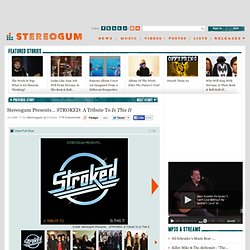 STROKED: A Tribute To Is This It Stereogum Presents... STROKED: A Tribute To Is This It. S 40 Best New Bands of 2011. Last year, right around the time summer turned to fall, we at Stereogum published our list of the 40 best new bands of the year.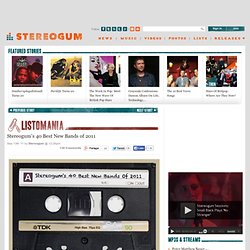 The idea of a "new" band is a pretty nebulous one, since many of the kids we listed were probably planning out their musical ventures in their basements since they were 11, but these were all artists who started to make a dent in our collective consciousness last year. This year, we've got another crop of 40 new artists who deserve your attention. So here we go again. A few clarifications are probably in order.
---