Critiques & News
5 Lesser Known Acts You Have To See At Bestival 2011 - NME Festivals Blog - NME.COM - The world's fastest music news service, music videos, interviews, photos and free stuff to win. Bjork, The Cure, PJ Harvey, Village People... we're getting very excited about the big names playing this year's Bestival, but there are also a whole load of brilliant new acts on the bill too.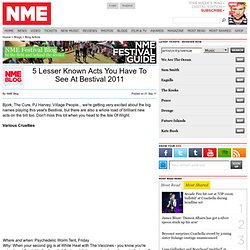 Don't miss this lot when you head to the Isle Of Wight. Various Cruelties Where and when: Psychedelic Worm Tent, FridayWhy: When your second gig is at White Heat with The Vaccines - you know you're going to get the right attention - but their nostalgic, crooning, bass-heavy indie is well worth all the fuss this lot have whipped up. Music - Reviews for 12-18 September 2011. Best New Music. Hear Slow Club's new album 'Paradise' exclusively on NME.COM – audio.
September 5, 2011 6:00 Folk rock duo's second LP isn't officially released for another week You can hear Slow Club's second album 'Paradise' exclusively on NME.COM now by scrolling down to the bottom of the page and clicking.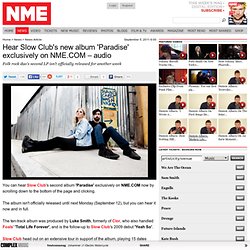 Most Underrated Albums Of 2011. P2K: The Decade in Music. Pitchfork: Home. BEST SONGS OF 2011. By Sean Please note: MP3s are only kept online for a short time, and if this entry is from more than a couple of weeks ago, the music probably won't be available to download any more.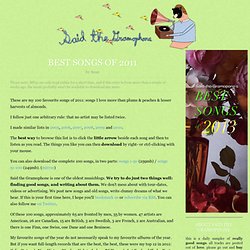 These are my 100 favourite songs of 2011: songs I love more than plums & peaches & lesser harvests of almonds.
---