BYEE 2012
Meditation Techniques. To ensure maximum effectiveness, the Transcendental Meditation technique is taught through personalized instruction by a certified TM teacher in the same systematic way as the teachers of thousands of years ago.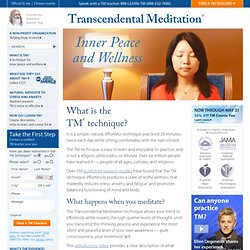 It is a simple, natural, effortless technique practiced 20 minutes twice each day while sitting comfortably with the eyes closed. The TM technique is easy to learn and enjoyable to practice, and is not a religion, philosophy, or lifestyle. Over six million people have learned it — people of all ages, cultures, and religions. Earth-Saving Scavenger Hunts. Environmental Education Activities & Games. Young ChangeMakers - List of Available Funding and Grant Schemes (Singapore and International) NYC grant publicity flyer (25.5.11).pdf (application/pdf Object) Grants. Singapore Food and Drink Companies. Children and Young Persons Homes - Ministry of Community Development, Youth and Sports. 10 Environmental Games That Teach Kids About Earth, Ecology & Conservation.
With the right eco-education, we can hope they will hit the ground running.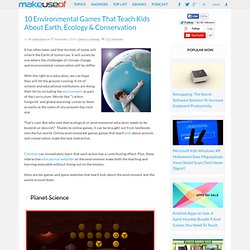 A lot of schools and educational institutions are doing their bit by including the environment as part of the curriculum. Words like "˜carbon footprint' and global warming' comes to them as easily as the name of any present-day rock star. That's cool. But who said that ecological or environmental education needs to be bookish or donnish?
---