Conspiracy theory
By Phillip D. Collins ©, Jan. 8th, 2014 I Corinthians 2: 14-15 establishes a binary opposition that defines the modern historical struggle in which man finds himself mortally locked. This passage of Scripture, as it is translated in the amplified version of the Bible, reads: "But the natural, nonspiritual man does not accept or welcome or admit into his heart the gifts and teachings and revelations of the Spirit of God, for they are folly (meaningless nonsense) to him; and he is incapable of knowing them [of progressively recognizing, understanding, and becoming better acquainted with them] because they are spiritually discerned and estimated and appreciated. But the spiritual man tries all things [he examines, investigates, inquires into, questions, and discerns all things], yet is himself to be put on trial and judged by no one [he can read the meaning of everything, but no one can properly discern or appraise or get an insight into him]."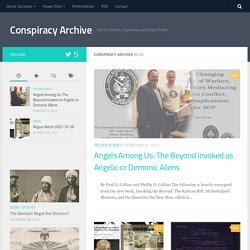 Godlike Productions - Conspiracy Forum
MIT Professor Exposes Climate Change Hysteria Mikael Thalen | "The opportunities for taxation, for policies, for control, for crony capitalism are just immense." Obama speech: Miller Lite commercial: less filling, tastes great Jon Rappoport | Obama just made a Miller Lite speech, to calm fears that NSA spying is a bother and a problem. Obama Justifies NSA Spying: Paul Revere Did It First Steve Watson | Argues US has always defended freedom through surveillance.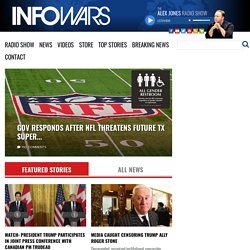 In Wikileaks Archives U.K. (2009) Publication of the UK Royal Mail's PostZon postcode database WikiLeaks released the UK government database of all 1,841,177 UK post codes together with latitude and longitude, grid references, county, district, ward, NHS codes and regions, Ordinance Survey reference, and date of introduction. The database was last updated on July 8, 2009 and is over 100,000 pages in size. Read this in Wikileaks Archives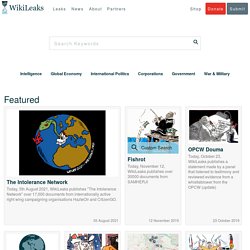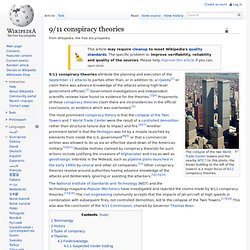 The collapse of the two World Trade Center towers and the nearby WTC7 (in this photo, the brown building to the left of the towers) is a major focus of 9/11 conspiracy theories. 9/11 conspiracy theories attribute the planning and execution of the September 11 attacks to parties other than, or in addition to, al-Qaeda[1] or claim there was advance knowledge of the attacks among high-level government officials.[2] Government investigations and independent scientific reviews have found no evidence for the theories.[3][4] Proponents of these conspiracy theories claim there are inconsistencies in the official conclusions, or evidence which was overlooked.[5]
By Ali Fisher The now familiar story of the release of documents by Wikileaks and reported by the New York Times, The Guardian and Der Spiegel has been analysed from numerous angles considering potential impact on reputation and the relationship between digital and the more traditional print media. The experience of Wikileaks has much in common with those engaged in Public Diplomacy and seeking to measure their attempts to disperse information on specific issues. Examining Wikileaks provides a case study of an attempt to map a network of influence and identify key nodes within that network. The first step is to establish a baseline, which this post will cover, using data from June (prior to the release of documents).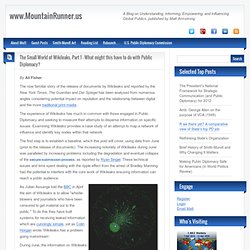 The Small World of Wikileaks, Part 1 - What might this have to do with Public Diplomacy? - www.MountainRunner.us