Blogs
Introduction to Blogging Languages: English • Español • Nederlands • 日本語 • 한국어 • ไทย • 中文(简体) • 中文(繁體) • (Add your language) What is a "blog"? "Blog" is an abbreviated version of "weblog," which is a term used to describe web sites that maintain an ongoing chronicle of information.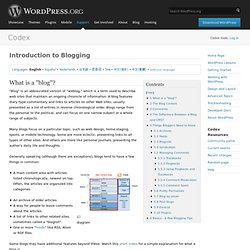 You've got a blog: huzzah! Now, it's time to make it the next internet sensation. Whether you want to be a WordPress.com pro or just need to get the hang of the basics, you've come to the right place.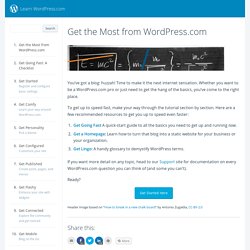 Each time you publish new content on your blog, your followers receive an update, either on their Read Blogs page or via email (or both, depending on their settings). There are several different ways that readers can start following your blog. Note: Followers do not need to be registered with WordPress.com. Anyone following your blog with an email address that's not associated with a WordPress.com account will be sent details of how to confirm and manage the sites they're following without needing to register at WordPress.com. Follower Stats Your site stats page displays how many followers you have, who your followers are, as well as how many people are subscribed to post comments on your site.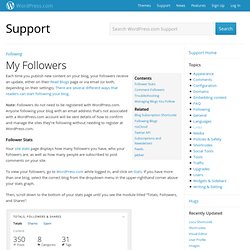 Enabling Subscriptions on My Blog « Support — WordPress.com
We've been asked to provide data about the Edublog Awards since it was started in 2004. So we've decided to share a walk through of the history of the Edublog Awards because it highlights: How educational technology use has changed.Why the nomination, short listing and voting have changed. Why the Edublog Awards? The Edublog Awards was set up in response to community concerns relating to how schools, districts and educational institutions were blocking access of learner and teacher sites for educational purposes. The purpose of the Edublog awards is promote and demonstrate the educational values of these social media.