Blogs
Blogs in Plain English. Introduction to Blogging. Introduction to Blogging Languages: English • Español • Nederlands • 日本語 • 한국어 • ไทย • 中文(简体) • 中文(繁體) • (Add your language) What is a "blog"?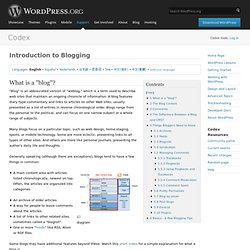 "Blog" is an abbreviated version of "weblog," which is a term used to describe web sites that maintain an ongoing chronicle of information. Learn WordPress.com. Enabling Subscriptions on My Blog « Support — WordPress.com. Each time you publish new content on your blog, your followers receive an update, either on their Read Blogs page or via email (or both, depending on their settings).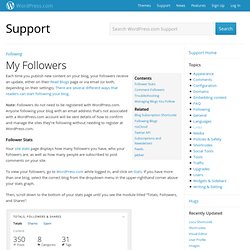 There are several different ways that readers can start following your blog. Note: Followers do not need to be registered with WordPress.com. Anyone following your blog with an email address that's not associated with a WordPress.com account will be sent details of how to confirm and manage the sites they're following without needing to register at WordPress.com.
Follower Stats Your site stats page displays how many followers you have, who your followers are, as well as how many people are subscribed to post comments on your site. The Edublog Awards.
---