Google
Map Your World. Community Edits - Maps Help. Building Maker - Create 3D buildings online. Map Maker. Souhaitez-vous tracer les contours de l'immeuble ?
Souhaitez-vous tracer les limites du site ? Souhaitez-vous délimiter le contour du bâtiment ou tracer la limite du site ? Place Closed. Google Reveals Android 2.2 and Google TV [LIVE] Today is day two of Google I/O, Google's developers conference.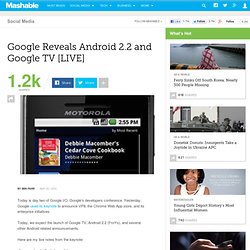 Yesterday, Google used its keynote to announce VP8, the Chrome Web App store, and its enterprise initiatives. Today, we expect the launch of Google TV, Android 2.2 (FroYo), and several other Android related announcements.
---