TED.COM
David McCandless: The beauty of data visualization. Shawn Achor: The happy secret to better work. The Top 20 TED Talks in The Last 5 Years. TED videos have been making the rounds online for a couple of years now.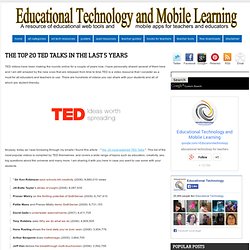 I have personally shared several of them here and I am still amazed by the new ones that are released from time to time.TED is a video resource that I consider as a must for all educators and teachers to use. There are hundreds of videos you can share with your students and all of which are student friendly. Anyway, today as I was browsing through my emails I found this article : " the 20 most watched TED Talks ". This Year's 10 Best TED Talks To Share With Students. In honor of the recent TED Live announcement , I thought it'd be a good idea to remind you why TED rocks.
Below is just a small fraction of the amazing presentations put on by the folks over at TED. Each one of the presentations embedded below is perfect for sharing with students and showing in class*. Sugata Mitra shows how kids teach themselves. Sunni Brown: Doodlers, unite! TED: Ideas worth spreading.
---