SMARTBoard
ISTE
smarttablefriend
Introduction to SMART Response interactive response system
Introducing the SMART Room System™ for Microsoft® Lync®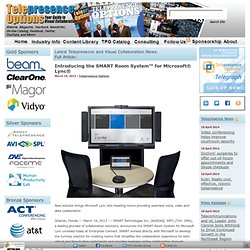 New solution brings Microsoft Lync into meeting rooms providing seamless voice, video and data collaboration Orlando, Florida --- March 18, 2013 --- SMART Technologies Inc. (NASDAQ: SMT) (TSX: SMA), a leading provider of collaboration solutions, announces the SMART Room System for Microsoft Lync unveiled today at Enterprise Connect. SMART worked directly with Microsoft to develop the turnkey solution for meeting rooms that simplifies the collaboration experience for both virtual and face-to-face participants and provides seamless online collaboration through sharing of real-time video, voice and data. The solution was previewed on the keynote stage at the Microsoft Lync conference in San Diego on February 19, 2013 and emphasized the Lync experience that is created through SMART's unique interactive technology components.
Top Technical Tips (129043)
SMART Survival Guides
Home » Classroom Insights, Professional development SMART defines a SMART Exemplary Educator (SEE) as a "dedicated teacher, technology coordinator or administrator who leads the way in using SMART products to engage students and improve learning outcomes." While this description certainly fits, the educators who apply for this program are so much more than that.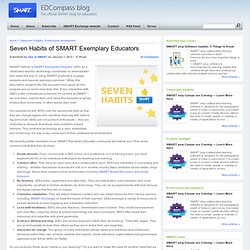 Seven Habits of SMART Exemplary Educators
Smart Notebook 11 Overview » Classroom21
Bob Jackman Bob Jackman is a native of Utah. He graduated with a BA in Music Performance with a teaching certificate from Southern Utah University.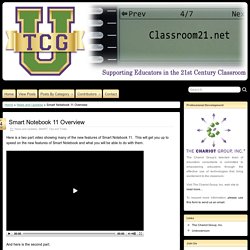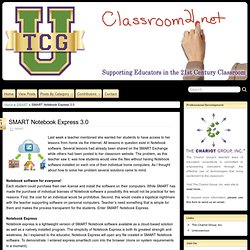 Last week a teacher mentioned she wanted her students to have access to her lessons from home via the internet.
SMART Notebook Express 3.0 » Classroom21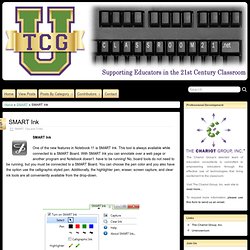 SMART Ink » Classroom21
SMART Ink One of the new features in Notebook 11 is SMART Ink. This tool is always available while connected to a SMART Board. With SMART Ink you can annotate over a web page or another program and Notebook doesn't have to be running! No, board tools do not need to be running, but you must be connected to a SMART Board. You can choose the pen color and you also have the option use the calligraphic styled pen.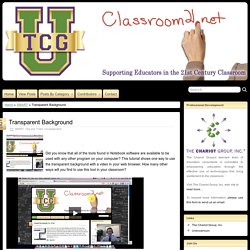 Ray Sahagun Ray Sahagun is a graduate student at Southern Utah University seeking a Masters in Education. He earned a B.A. in Communication from California State University, Fresno in 2002. He has taught Third, Fourth, and Fifth grade students over four years in the classroom.
Transparent Background » Classroom21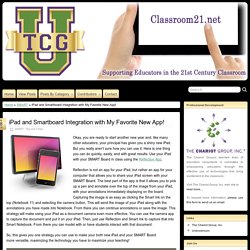 Okay, you are ready to start another new year and, like many other educators, your principal has given you a shiny new iPad.
iPad and Smartboard Integration with My Favorite New App! » Classroom21
Classroom21
SMART Board Website Resources
SMART Board Collections
Interactive Whiteboard - Keele University
Copyright 2013 - Super Teacher Worksheets Download Smartboard Lessons
Smartboard Notebook Lessons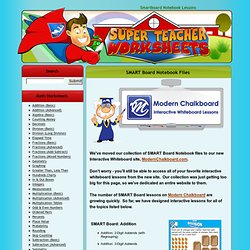 Teq Hebrew Webinar - Encoding Before Decoding
Video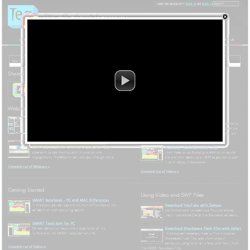 K-2 Student Interactives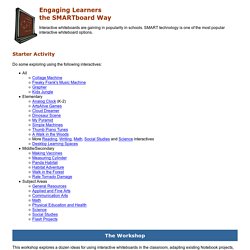 SMART Technologies An online community for educators using SMART products. SMART Technologies Website (Download Notebook Example) (Download Notebook Example)
SMART Board Templates
Chittenden East Supervisory Union - SMARTBoard Video Tutorials
Technology-SmartBoard (Interactive Boards)
Troubleshooting with a SMART Board | Blossom Learning Online SMART Board Training
Resources - Technology Guide
SMART Technologies
SMART Classrooms' Photostream
SMARTBoards and Audio Resources
One of the best ways to reinforce information to help students learn is to use engaging media, and one of the most underused media for increasing the effectiveness of a Notebook lesson is audio.
Smart Notebook 11 : Activity Builder Tutorial
Smartboard lessons, tutorials, content, and more!
smartlinks - Video and Training Materials
Get your brand new Wikispaces Classroom now and do "back to school" in style. guest|Join|Help|Sign In
Smart Board 137 Interactive Math Activities
Bob's Place of Educational Links...Smartboard Links
Battle for Whiteboard-Market Supremacy Heats Up
Published Online: February 8, 2012
Higher Ed SMART Users
About – Teaching with Smartboard.com
NEW! Easy Smartboard Teaching Templates Notebook Edition – Teaching with Smartboard.com
Smart Notebook – Flash Activities in the Lesson Activity Toolkit 2.0 « Trails Optional
Teq
Discover Yourself!
techntuit / SMART Board Resources
Smart Tech Brings 3D Capabilities to Interactive Whiteboard Software
http://www.teachsmart.org/~/media/Presenter%20Content/FreeTech%202011/Cleveland/Making%20Your%20SMART%20Board%20Work%20for%20You%20and%20the%20WWW.ashx
http://www.teachsmart.org/~/media/Presenter%20Content/FreeTech%202011/Cincinnati/Smart%20Response_Michele%20Murphy.ashx
http://www.teachsmart.org/~/media/Presenter%20Content/FreeTech%202011/Cincinnati/Inserting%20Sounds%20and%20Video%20Into%20Notebook%20Software_Christy%20Hartman.ashx
SmartEd Services, SMART Boards, professional development and school technology
Multiple Measures:Teaching with Interactive Whiteboards
Interactive Whiteboards
White papers
Teachers Love SMART Boards
SMART Parts Storefront
Resources
Lee Baird's Page