Recovered Tools For Educators
: PBS LearningMedia. About Moodle. Moodle is a software package for producing Internet-based courses and web sites.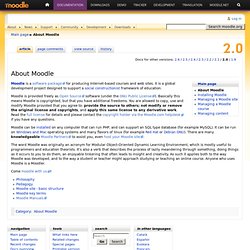 It is a global development project designed to support a social constructionist framework of education. Moodle is provided freely as Open Source software (under the GNU Public License). Basically this means Moodle is copyrighted, but that you have additional freedoms. Video Slideshow Maker with Music. ClassTools.net: Create interactive flash tools / games for education.
Creative Commons. Creative Commons Kiwi. This short and fun animation video explains the CC licenses.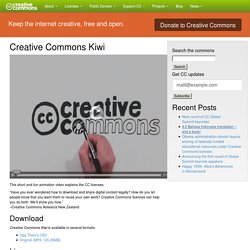 "Have you ever wondered how to download and share digital content legally? How do you let people know that you want them to reuse your own work? Creative Commons licences can help you do both. We'll show you how." –Creative Commons Aotearoa New Zealand. EDU. Educational Methodologies for Teachers, Educational Consultants, K-12 Education, Parents and Administrators| Quantum Learning. Experts Discuss Common Core State Standards - Webinar Series at Pearson. Join our experts to learn more about the Common Core State Standards and what they will mean for literacy and mathematics instruction with this informative webinar series.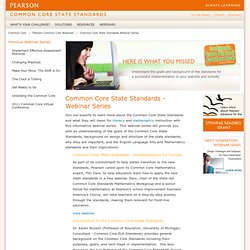 This webinar series will provide you with an understanding of the goals of the Common Core State Standards, background on design and structure of the state standards, why they are important, and the English Language Arts and Mathematics standards and their implications. Common Core: Math Standards - Implementation for Success As part of its commitment to help states transition to the new standards, Pearson called upon its Common Core mathematics expert, Phil Daro, to help educators learn how to apply the new math standards in a free webinar. Fair Use. Flash cards, vocabulary memorization, and study games. Getting started with prezi. Home Page. Home. TeacherTube welcomes the National Institute of General Medical Sciences (NIGMS) Channel The National Institute of General Medical Sciences (NIGMS) channel offers information and video for students wanting to learn more about the science of medicine.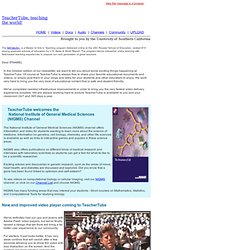 Information on genetics, cell biology, chemistry, and other life sciences is available as well as links to interactive games and puzzles in these science areas. NIGMS also offers publications on different kinds of medical research and interviews with laboratory scientists so students can get a feel for what its like to be a scientific researcher. Instructables - Make, How To, and DIY. Internet4Classrooms - Helping Students, Teachers and Parents Use the Internet Effectively. Khan Academy. Kids - Reading Planet Home. Larry Ferlazzo's Websites of the Day… - …For Teaching ELL, ESL, & EFL.
Mind42.com - Collaborative mind mapping in your browser. Organize your resources in an online binder - LiveBinders. Prezi - The Zooming Presentation Editor. Technology Experts in Schools: Teacher Leaders or Technicians? - Leading From the Classroom.
Are you a teacher who leads others in using technology?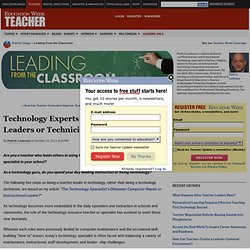 Or, are you a technology specialist in your school? As a technology guru, do you spend your day leading instruction or fixing technology? The following five steps on being a teacher leader in technology, rather than being a technology technician, are based on my article "The Technology Specialist's Dilemma: Computer Repair or Instructional Leader? " As technology becomes more embedded in the daily operation and instruction in schools and classrooms, the role of the technology resource teacher or specialist has evolved to meet these new demands. The IWB Revolution - The Interactive Whiteboard Revolution. Tools - McCullough History.
Tweenteacher.com. VideoDL.org - Download Online Video (Google Video, YouTube etc) in a Flash! Beautiful Word Clouds.
---