Educational Technology Magazines
Welcome to the Office of Educational Technology! The Office of Educational Technology (OET), in the Office of the Secretary, provides leadership for transforming education through the power of technology. OET develops national educational technology policy and advocates for the transition from print-based to digital learning. OET supports the President's and Secretary's ConnectED Initiative by: Promoting equity of access by ensuring a device for every learner and connecting all schools to broadband internet.Supporting powered-up educators and a robust ecosystem of entrepreneurs and innovators.Leading cutting-edge research in learning analytics and data to provide new types of evidence and customize and improve learning. Connect with the Office of Educational Technology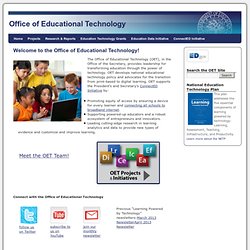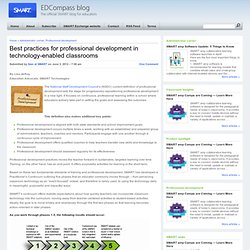 Best practices for professional development in technology-enabled classrooms
By Lisa deRoy Education Advocate, SMART Technologies The National Staff Development Council's (NSDC) current definition of professional development sets the stage for progressively repositioning professional development in a new light. It focuses on continuous, professional learning within a school where educators actively take part in setting the goals and assessing the outcomes. This definition also makes additional key points:
According to ABC News' Children Late for School, Parents Charged in Virginia, the Virginia school district had the sheriff's deputy's handcuff and arrest Maureen Blake while hosting a slumber party for her children. It seems that Blake was responsible for her children being tardy ten times since the start of this school year. Apparently she had the same problem last year and paid around $2,000 in fines. District spokesman Wayde Byard said, "Even when they're a minute late… it's very disruptive." Executive Director of the American Association of School Administrators, Dan Domenech, says that parents have to understand it's not just about them and their child. "The disruptive factor, the security factor, the bad-example factor" are all concerns for Domenech.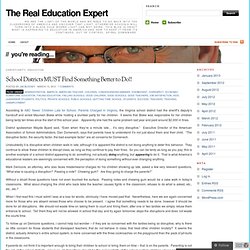 The Association of Educational Publishers Group News
Earlier this year our district adopted the TPACK model of technology integration. What is TPACK you ask? Basically, it takes the approach that planning for technology integration shouldn't be an event.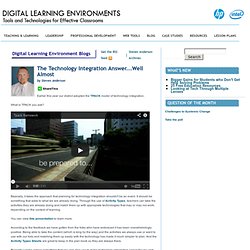 A national survey from PBS LearningMedia—a new and free media-on-demand service featuring over 18,000 digital assets from national organizations like NASA, National Archives and PBS programs—finds teachers want even more access to classroom technology. PBS LearningMedia released Monday at FETC that 93 percent of K-12 teachers believe interactive whiteboards enrich classroom education and 81 percent feel the same way about tablets, but 63 percent of teachers cited budget as the biggest barrier to accessing this technology. "Over the past decade, we've seen broadening adoption and deeper integration of digital media in classrooms for all age groups, with teachers enthusiastic about the power of new technologies to foster learning," said Rob Lippincott, Senior Vice President, PBS Education.
Teachers Want More Access to Classroom Technology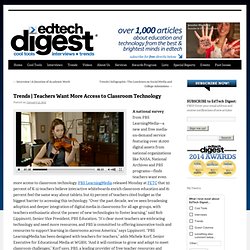 THE Journal: Technological Horizons in Education
For over 30 years, Tech & Learning has served the K-12 education community with practical resources and expert strategies for transforming education through integration of digital technologies. Our audience includes all job roles within the district community, with district-level technology coordinators the primary recipients. Beyond that, our magazine is often used as a professional development tool to help educators across the board get up to speed with the newest technologies and products in order to best prepare students for the global digital workforce. Contact Us: Tech & Learning Magazine/TechLearning.com Meet the Bloggers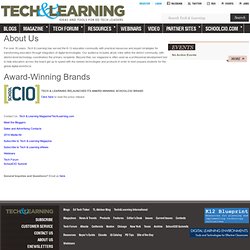 Technology & Learning - The Resource for Education Technology Leaders
Digital Directions: Digital Directions: Trends and Advice for K-12 Technology Leaders