#UKFail
Get flash to fully experience Pearltrees
Police told schoolboy Nicky Wishart he would be arrested if his picket at David Cameron's office sparked unrest.
Police officers clash with protestors during student demonstrations in central London Rachel Bergan from Barnsley is 17 and looking to her future. University might well be a part of that future so Rachel and some of her friends made their way to London on 9 December to join the student protests over planned increases to tuition fees.
Metropolitan police kettling protesters outside Downing Street.
There is blood on my face, but not all of it is mine. I'm writing this from the UCL occupation, where injured students and schoolchildren keep drifting in in ones and twos, dazed and bruised, looking for medical attention and a safe space to sit down.
Welfare reform has swiftly become one of the most venomously disputed themes of these early months of the coalition government.
11 November 2010 Last updated at 07:22 ET Nick Clegg, interviewed on ITV1's Daybreak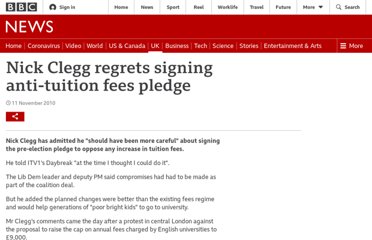 In the UK, the police can stop and search you without cause or a warrant, as part of the special "anti-terrorism" rules.
U.K. Communications Minister Ed Vaizey will say today that Internet service providers should be free to favor traffic from one content provider over another, provided customers are informed, the Financial Times reported.