Library stuff
The libraries that governments will burn in the future - Waterfox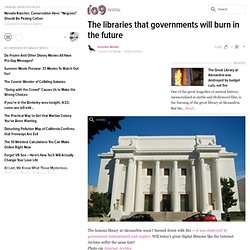 Well he better move the thing away from the coast or global warming will make his argument mute. I get where he's coming from,make it politically and socially costly to censor or control the contents.That might work if today's political climate and what is or is not socially acceptable and worthy of protection and preservation remain reasonably constant. But who can say what will be worthy,acceptable or even cared about a century from now.That said if you look at this as a concept where the contents vary with the times we should hope it holds true even a century or more from now.If it doesn't then that means the government,the country,and what is or is not acceptable or resistible will have changed dramatically and probably for the worse.
15 Curious Things Found In Library Books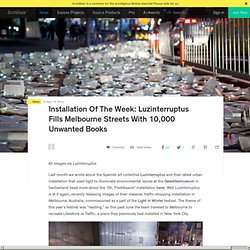 Installation Of The Week: Luzinterruptus Fills Melbourne Streets With 10,000 Unwanted Books
All images via Luzinterruptus Last month we wrote about the Spanish art collective Luzinterruptus and their latest urban installation that used light to illuminate environmental issues at the Gewerbemuseum in Switzerland (read more about the 'Oh, Plastiksack!'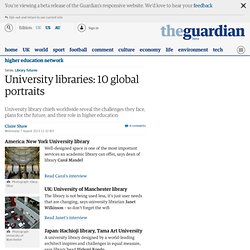 University libraries: 10 global portraits | Higher Education Network | Guardian Professional
America: New York University library
in Community by Robert Libraries are still one of the most important places for people to gain knowledge and to become better informed.
25 Most Popular Apps Used By Librarians | LibraryScienceList.com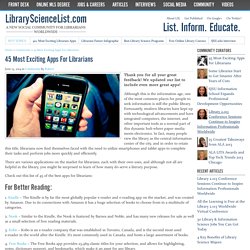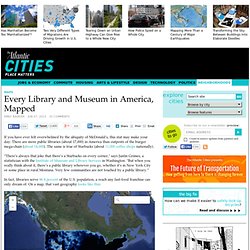 If you have ever felt overwhelmed by the ubiquity of McDonald's, this stat may make your day: There are more public libraries (about 17,000) in America than outposts of the burger mega-chain (about 14,000).
Every Library and Museum in America, Mapped - Emily Badger
Dewey Decimal System Meme
This will convert your name to a class listed in the Dewey Decimal System. That's right... somewhere between 000 (Generalities) and 999 (Extraterrestrial worlds) you have a place, and through the magic of internet we can find it through random arbitrary letter decoding. Plus this gives me a chance to mention how wonderful libraries are... don't forget to go read something, yes?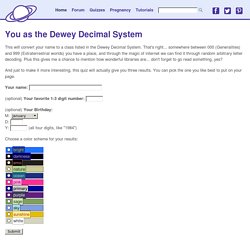 Interesting Search Engines
Dear Look That Slowly Forms On Your Face When I Tell You I Am a Librarian:
Open Letters: An Open Letter to the Look That Slowly Forms On Your Face When I Tell You I Am a Librarian.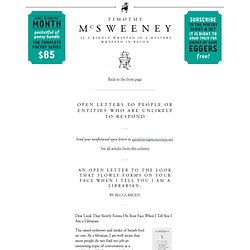 Libraries of the Future [VISUALIZATION] | LibraryScienceList.com
YOU'RE ALL JUST JEALOUS OF MY JETPACK | A book of my cartoons will be out in late April.
25 Writers on the Importance of Libraries
British children's author Terry Deary — best known for his Horrible Histories series and controversial chatter about the nation's school systems — told the Guardian he thinks libraries "have had their day."
the second best time: IT'S NOT ABOUT THE BOOKS! - A short note on libraries.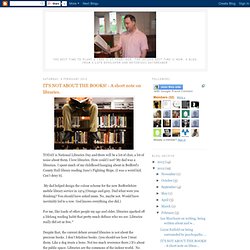 TODAY is National Libraries Day and there will be a lot of chat, a lot of noise about them. I love libraries.
(4) Twitter / Search - #LoveLibraries
Anatomy of a Librarian [infographic]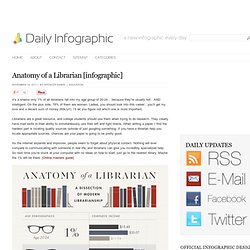 It's a shame only 1% of all librarians fall into my age group of 20-24… because they're usually hot…AND intelligent.
Favorite library quotes
I work at a public library.
MISHAPSPERHAPS | (eternally under construction)
Essay: Shannon Mattern A few years ago libraries were flying high.
Little Libraries and Tactical Urbanism
Piper Auditorium (Gund Hall), Harvard Graduate School of Design
Libraries Are Obsolete: An Oxford-Style Debate | Harvard Library Strategic Conversations
For units of measure primarily used in countries where English is not the main language, see the article specific to that country, a list of which can be found in the systems of measurement article. For unusual units of measure invented primarily for amusement, see List of humorous units of measurement An unusual unit of measurement is a unit of measurement that does not form part of a coherent system of measurement; especially in that its exact quantity may not be well known or that it may be an inconvenient multiple or fraction of base units in such systems.
List of unusual units of measurement
Memes - how they are used by libraries and librarians
If you spend any amount of time online, you will run into memes.
The Three Questions – From the ACPL!
Library Professional Organisations
Update: The Library Phantom Returns!
Who Left A Tree, Then A Coffin In The Library? : Krulwich Wonders...