Library stuff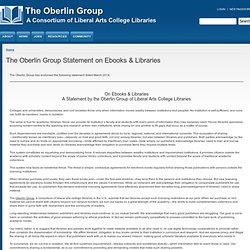 The Oberlin Group has endorsed the following statement dated March 2014: On Ebooks & LibrariesA Statement by the Oberlin Group of Liberal Arts College Libraries Colleges and universities, democracies, and civil societies thrive only when information moves readily between institutions and peoples. No institution is self-sufficient, and none can fulfill its members' needs in isolation. The same is true for academic libraries.
The Oberlin Group Statement on Ebooks & Libraries | The Oberlin Group - Waterfox
The libraries that governments will burn in the future - Waterfox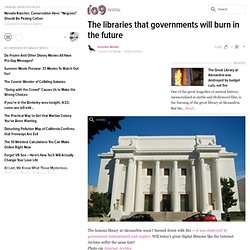 Well he better move the thing away from the coast or global warming will make his argument mute. I get where he's coming from,make it politically and socially costly to censor or control the contents.That might work if today's political climate and what is or is not socially acceptable and worthy of protection and preservation remain reasonably constant. But who can say what will be worthy,acceptable or even cared about a century from now.That said if you look at this as a concept where the contents vary with the times we should hope it holds true even a century or more from now.If it doesn't then that means the government,the country,and what is or is not acceptable or resistible will have changed dramatically and probably for the worse.
15 Curious Things Found In Library Books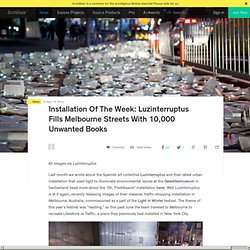 Installation Of The Week: Luzinterruptus Fills Melbourne Streets With 10,000 Unwanted Books
All images via Luzinterruptus Last month we wrote about the Spanish art collective Luzinterruptus and their latest urban installation that used light to illuminate environmental issues at the Gewerbemuseum in Switzerland (read more about the 'Oh, Plastiksack!' installation here). Well Luzinterruptus is at it again, recently releasing images of their massive, traffic-stopping installation in Melbourne, Australia, commissioned as a part of the Light in Winter festival. The theme of this year's festival was "reading," so this past June the team traveled to Melbourne to recreate Literature vs Traffic, a piece they previously had installed in New York City. While the installation in New York City had been a far more subversive undertaking, the recreation in Melbourne allowed the artists to expand upon the project, allowing it to grow for a month, eventually making it their largest installation to date.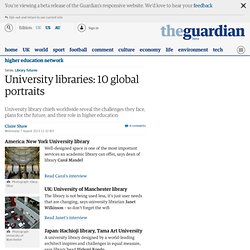 University libraries: 10 global portraits | Higher Education Network | Guardian Professional
America: New York University library Well-designed space is one of the most important services an academic library can offer, says dean of library Carol Mandel Read Carol's interview UK: University of Manchester library
in Community by Robert Libraries are still one of the most important places for people to gain knowledge and to become better informed. The Internet and computer technology have now been integrated into the modern library, so that the library today is a dynamic hub of both electronic and paper-based media. Given how libraries have evolved into full blown media information centers, there has been a surge in the need for smartphone and tablet apps that can help librarians to do their jobs more effectively. Some of the best apps are listed below. If you know of better apps, comment below!
25 Most Popular Apps Used By Librarians | LibraryScienceList.com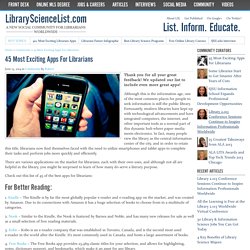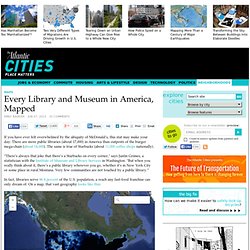 If you have ever felt overwhelmed by the ubiquity of McDonald's, this stat may make your day: There are more public libraries (about 17,000) in America than outposts of the burger mega-chain (about 14,000). The same is true of Starbucks (about 11,000 coffee shops nationally). "There's always that joke that there's a Starbucks on every corner," says Justin Grimes, a statistician with the Institute of Museum and Library Services in Washington. "But when you really think about it, there's a public library wherever you go, whether it's in New York City or some place in rural Montana.
Every Library and Museum in America, Mapped - Emily Badger
Dewey Decimal System Meme
This will convert your name to a class listed in the Dewey Decimal System. That's right... somewhere between 000 (Generalities) and 999 (Extraterrestrial worlds) you have a place, and through the magic of internet we can find it through random arbitrary letter decoding. Plus this gives me a chance to mention how wonderful libraries are... don't forget to go read something, yes?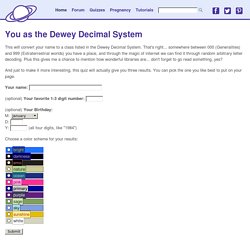 Interesting Search Engines
Dear Look That Slowly Forms On Your Face When I Tell You I Am a Librarian: The raised eyebrows and intake of breath fool no one. As a librarian, I am well aware that most people do not find my job an interesting topic of conversation at a neighborhood barbecue, music festival or, to use a more keenly relevant example, the cocktail party we both attended last Friday night. I believe that those four minutes we spent together, both holding a glass of shiraz in one hand and crumpled up napkins in the other, created a camaraderie that allow me to offer a few delicate suggestions.
Open Letters: An Open Letter to the Look That Slowly Forms On Your Face When I Tell You I Am a Librarian.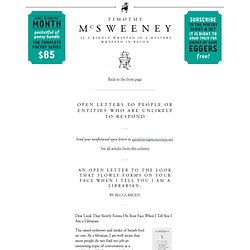 Libraries of the Future [VISUALIZATION] | LibraryScienceList.com
YOU'RE ALL JUST JEALOUS OF MY JETPACK | A book of my cartoons will be out in late April.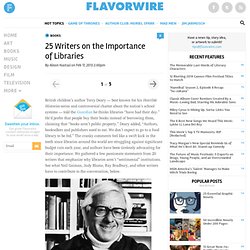 25 Writers on the Importance of Libraries
British children's author Terry Deary — best known for his Horrible Histories series and controversial chatter about the nation's school systems — told the Guardian he thinks libraries "have had their day." He'd prefer that people buy their books instead of borrowing them, claiming that "books aren't public property." Deary added, "Authors, booksellers and publishers need to eat. We don't expect to go to a food library to be fed." The cranky comments feel like a swift kick in the teeth since libraries around the world are struggling against significant budget cuts each year, and authors have been tirelessly advocating for their importance. We gathered a few passionate statements from 20 writers that emphasize why libraries aren't "sentimental" institutions.
the second best time: IT'S NOT ABOUT THE BOOKS! - A short note on libraries.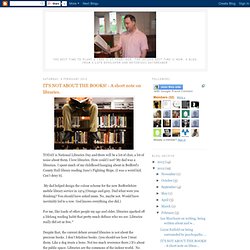 TODAY is National Libraries Day and there will be a lot of chat, a lot of noise about them. I love libraries. How could I not? My dad was a librarian. I spent much of my childhood hanging about in Bedford's County Hall library reading Jane's Fighting Ships. (I was a weird kid.
(4) Twitter / Search - #LoveLibraries
Anatomy of a Librarian [infographic]
It's a shame only 1% of all librarians fall into my age group of 20-24… because they're usually hot…AND intelligent. On the plus side, 78% of them are women. Ladies, you should look into this career…you'll get my love and a decent sum of money (60k/yr!). I'll let you figure out which one is more important. Librarians are a great resource, and college students should use them when trying to do research.
Favorite library quotes
Found in the IT Department. Filed under 745.5 Found Objects 004.16 Computers libraries computers tumblarians Patron: "Is it okay if I leave my baby in the stroller over by the TV area?"
I work at a public library.
For the sake of comparison, authoritative definitions of "library," "archives," "digital library", and "digital archives" are included too.. Here's Library from the ODLIS: From the Latin liber, meaning "book."
MISHAPSPERHAPS | (eternally under construction)
Essay: Shannon Mattern A few years ago libraries were flying high. I wrote a book about the so-called "third wave" library-building boom of the '90s and early aughts, a boom made possible in part by the dot.com bubble. Today, nearly a decade later, our cities and their libraries find themselves in a very different situation. While libraries are welcoming record numbers of visitors and breaking circulation records, library budgets are facing drastic cuts, some of those flashy new buildings are often shuttered, and cities are resorting to the privatization or outsourcing of library services. Meanwhile, many services that patrons once relied on libraries to provide — specifically the provision and preservation of information in multiple formats — are now accessible elsewhere, including in our living rooms, and even in the palms of our hands.
Little Libraries and Tactical Urbanism
Libraries Are Obsolete: An Oxford-Style Debate | Harvard Library Strategic Conversations
List of unusual units of measurement
Memes - how they are used by libraries and librarians
The Three Questions – From the ACPL!
Library Professional Organisations
Who Left A Tree, Then A Coffin In The Library? : Krulwich Wonders...