Library stuff
Reanimation Library. Katie Paterson, Future Library. VATNASAFN / LIBRARY OF WATER by Roni Horn, Stykkishólmur, Iceland. VATNASAFN / LIBRARY OF WATER is a long-term project conceived by Roni Horn for a former library in the coastal town of Stykkishólmur in Iceland.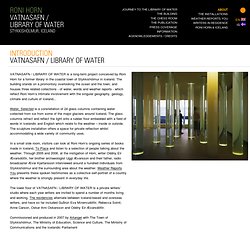 The building stands on a promontory overlooking the ocean and the town, and houses three related collections - of water, words and weather reports - which reflect Roni Horn's intimate involvement with the singular geography, geology, climate and culture of Iceland... Water, Selected is a constellation of 24 glass columns containing water collected from ice from some of the major glaciers around Iceland. The glass columns refract and reflect the light onto a rubber floor embedded with a field of words in Icelandic and English which relate to the weather – inside or outside. Librarianship: A Philosophical Investigation - Ethos. By Kevin Michael Klipfel19 August 2014 One of the first things you learn as a professional librarian is that very few people have any idea what you do.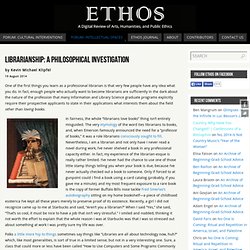 In fact, enough people who actually want to become librarians are sufficiently in the dark about the nature of the profession that many Information and Library Science graduate programs explicitly require their prospective applicants to state in their applications what interests them about the field other than loving books. 10 vintage library infographics from the 30s and 40s (pictures) Libraries are doing extremely well in using infographics to promote their services to communities, and reading in general.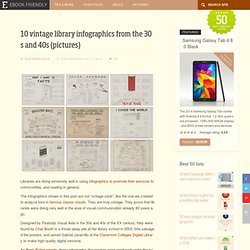 The infographics shown in this post are not "vintage-style", like the one we created to analyze love in famous classic novels. They are truly vintage.
Library collaboration
ReMix: 'Pataphysical Meditations, or A Bibliographic Prank. 'Pataphysical Meditations, or A Bibliographic Prank By David A.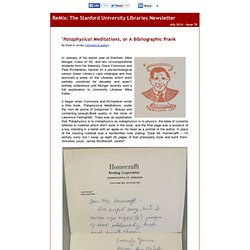 Jordan (comment to author) In January of his senior year at Stanford, Mike Munger, Class of '62, and two co-conspiratorial students from his fraternity, Dave Commons and Pete Richardson, hacked (in a pre-technological sense) Green Library's card catalogue and thus launched a prank on the Libraries which went partially unnoticed for decades and wasn't entirely understood until Munger recently sent a full explanation to University Librarian Mike Keller. Libraries Rock! 17 More Essential Altmetrics Resources (the Library Version) | Scholarly Communication. As promised, I have compiled some "required reading" related specifically to altmetrics and their use in libraries.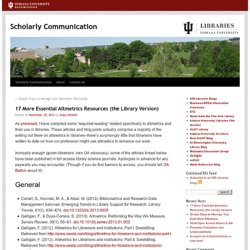 These articles and blog posts actually comprise a majority of the writing out there on altmetrics in libraries–there's surprisingly little that librarians have written to date on how our profession might use altmetrics to enhance our work. Ironically enough (given librarians' own OA advocacy), some of the articles linked below have been published in toll access library science journals. Apologies in advance for any paywalls you may encounter. Musings about librarianship: 8 surprising things I learnt about Google Scholar.
Google Scholar is increasingly becoming a subject that an academic librarian cannot afford to be ignorant about.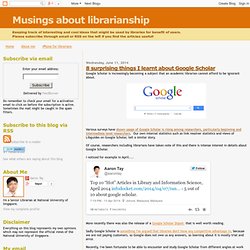 Of course, researchers including librarians have taken note of this and there is intense interest in details about Google Scholar. I noticed for example in April.... Recently, I've been fortunate to be able to encounter and study Google Scholar from different angles at work including. Where gun stores outnumber museums and libraries. Photo by Flickr user Ryan Keene, used under a Creative Commons license Many readers took heart in the news last week that museums in the U.S. outnumber McDonald's and Starbucks restaurants - combined.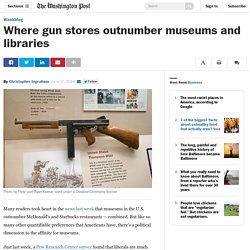 But like so many other quantifiable preferences that Americans have, there's a political dimension to the affinity for museums. Just last week, a Pew Research Center survey found that liberals are much more attached to their museums than conservatives are: 73 percent of "consistently liberal" Americans say that being near museums and theaters is an important factor in choosing where to live. Only 23 percent of consistently conservative Americans say the same. Considering that divide, I thought it might be useful to map museums and libraries against an institution that conservatives might be more fond of: gun stores.
Evolution of libraries highlights values of books. Libraries are in transformation.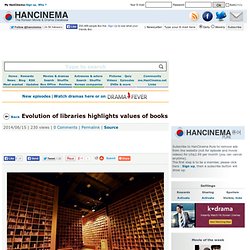 From a library open around the clock to one specialized in travel books, new types of libraries are opening up across Korea. The Forest of Wisdom library, which will open in Paju, Gyeonggi-do (Gyeonggi Province), on June 19, and the Hyundai Card Travel Library in Cheongdam-dong, southern Seoul, are leading the library's evolution.
Collection Management
The Oberlin Group Statement on Ebooks & Libraries | The Oberlin Group - Waterfox. The Oberlin Group has endorsed the following statement dated March 2014: On Ebooks & LibrariesA Statement by the Oberlin Group of Liberal Arts College Libraries Colleges and universities, democracies, and civil societies thrive only when information moves readily between institutions and peoples.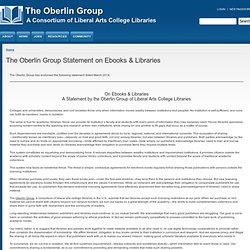 No institution is self-sufficient, and none can fulfill its members' needs in isolation. The same is true for academic libraries. The libraries that governments will burn in the future - Waterfox. Well he better move the thing away from the coast or global warming will make his argument mute.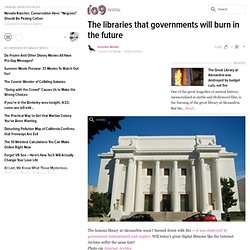 I get where he's coming from,make it politically and socially costly to censor or control the contents.That might work if today's political climate and what is or is not socially acceptable and worthy of protection and preservation remain reasonably constant. But who can say what will be worthy,acceptable or even cared about a century from now.That said if you look at this as a concept where the contents vary with the times we should hope it holds true even a century or more from now.If it doesn't then that means the government,the country,and what is or is not acceptable or resistible will have changed dramatically and probably for the worse.
15 Curious Things Found In Library Books. Installation Of The Week: Luzinterruptus Fills Melbourne Streets With 10,000 Unwanted Books. All images via Luzinterruptus Last month we wrote about the Spanish art collective Luzinterruptus and their latest urban installation that used light to illuminate environmental issues at the Gewerbemuseum in Switzerland (read more about the 'Oh, Plastiksack!' Installation here). Well Luzinterruptus is at it again, recently releasing images of their massive, traffic-stopping installation in Melbourne, Australia, commissioned as a part of the Light in Winter festival. The theme of this year's festival was "reading," so this past June the team traveled to Melbourne to recreate Literature vs Traffic, a piece they previously had installed in New York City. Add To Collection Save this image to a collection.
University libraries: 10 global portraits | Higher Education Network | Guardian Professional. America: New York University library Well-designed space is one of the most important services an academic library can offer, says dean of library Carol Mandel Read Carol's interview UK: University of Manchester library. 25 Most Popular Apps Used By Librarians | LibraryScienceList.com. In Community by Robert Libraries are still one of the most important places for people to gain knowledge and to become better informed.
The Internet and computer technology have now been integrated into the modern library, so that the library today is a dynamic hub of both electronic and paper-based media. Given how libraries have evolved into full blown media information centers, there has been a surge in the need for smartphone and tablet apps that can help librarians to do their jobs more effectively. Some of the best apps are listed below. If you know of better apps, comment below! Every Library and Museum in America, Mapped - Emily Badger. If you have ever felt overwhelmed by the ubiquity of McDonald's, this stat may make your day: There are more public libraries (about 17,000) in America than outposts of the burger mega-chain (about 14,000).
The same is true of Starbucks (about 11,000 coffee shops nationally). "There's always that joke that there's a Starbucks on every corner," says Justin Grimes, a statistician with the Institute of Museum and Library Services in Washington. "But when you really think about it, there's a public library wherever you go, whether it's in New York City or some place in rural Montana. Dewey Decimal System Meme. This will convert your name to a class listed in the Dewey Decimal System. That's right... somewhere between 000 (Generalities) and 999 (Extraterrestrial worlds) you have a place, and through the magic of internet we can find it through random arbitrary letter decoding. Plus this gives me a chance to mention how wonderful libraries are... don't forget to go read something, yes? Interesting Search Engines. Open Letters: An Open Letter to the Look That Slowly Forms On Your Face When I Tell You I Am a Librarian.
Libraries of the Future [VISUALIZATION] | LibraryScienceList.com. YOU'RE ALL JUST JEALOUS OF MY JETPACK | A book of my cartoons will be out in late April. 25 Writers on the Importance of Libraries. The second best time: IT'S NOT ABOUT THE BOOKS! - A short note on libraries. (4) Twitter / Search - #LoveLibraries... Anatomy of a Librarian.
Favorite library quotes. I work at a public library. Art Libraries. MISHAPSPERHAPS | (eternally under construction) Little Libraries and Tactical Urbanism. Libraries Are Obsolete: An Oxford-Style Debate | Harvard Library Strategic Conversations. List of unusual units of measurement. Memes - how they are used by libraries and librarians. The Three Questions – From the ACPL! Library Professional Organisations.
Library Cataloguing. Library design. Library software. Who Left A Tree, Then A Coffin In The Library? : Krulwich Wonders... Special Libraries stuff. Library news.
---