Library news
Where are the books? This isn't your childhood library. The Hunt Library at North Carolina State University is beautiful. The main floor looks more like a sleek Apple showroom than a stuffy library.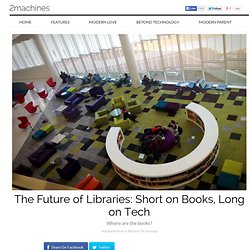 The Future of Libraries: Short on Books, Long on Tech
which-majors-have-highest-employment.png (PNG Image, 960 × 1403 pixels)
Sounds in the silence of Brisbane Square Library from musician Dan Acfield. Picture: Lyndon Mechielsen Source: The Australian DOWN a quiet street, the sound of jazz can be heard.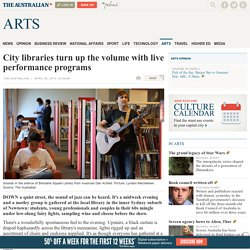 City libraries turn up the volume with live performance programs
Libraries have made as much difference to me as they have to John Scalzi and Ray Bradbury. The now-vanished library on Montague Street with vaulted interior, old Pennsylvania Statione in miniature (Asimov's inspiration for Trantor). Then the main Brooklyn Library and Grand Army Plaza, where I read the Foundation Trilogy, a few blocks from the Asimov's candy/cigarette/pulp magazine store. "Is there anything sadder than a boy who won't LIKE his mother's page on Facebook?" That was the opening line of a short story that I dreamed, last night, that I wrote.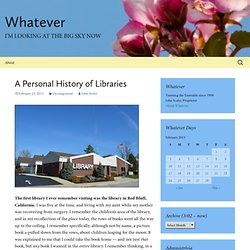 A Personal History of Libraries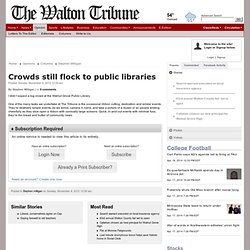 I didn't expect a big crowd at the Walnut Grove Public Library. One of the many tasks we undertake at The Tribune is the occasional ribbon cutting, dedication and similar events.
Crowds still flock to public libraries - WaltonTribune.com: Stephen Milligan
Librarians as Booksellers
By Joanna Cabot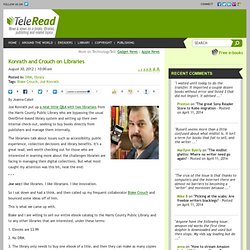 Konrath and Crouch on Libraries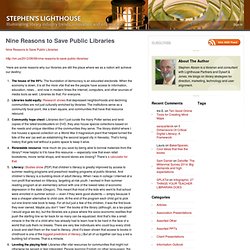 Nine Reasons to Save Public Libraries
New Nine Reasons to Save Public Libraries
The e-book lending wars: When authors attack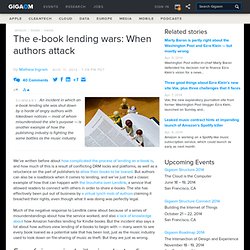 We've written before about how complicated the process of lending an e-book is , and how much of this is a result of conflicting DRM locks and platforms, as well as a reluctance on the part of publishers to allow their books to be loaned . But authors can also be a roadblock when it comes to lending, and we've just had a classic example of how that can happen with the brouhaha over LendInk , a service that allowed readers to connect with others in order to share e-books. The site has effectively been put out of business by a virtual lynch mob of authors claiming it breached their rights, even though what it was doing was perfectly legal.
Sometime last year, the New York Public Library (NYPL) retired its pneumatic-tube system, which had been used to request books for more than a century. This change was made without ceremony or fanfare; I learned of it unexpectedly, when I walked into the catalog room prepared to deliver a call slip to a clerk behind a large wooden desk, only to find a notice directing me elsewhere. Still Here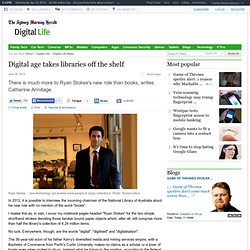 Ryan Stokes ... new technology can enable more people to enjoy collections.
Digital age takes libraries off the shelf
Dear FCC and ALA: Do You Really Not Get It?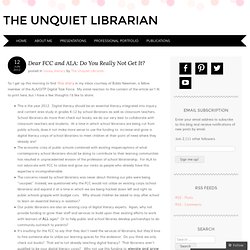 So I get up this morning to find this story in my inbox courtesy of Bobbi Newman, a fellow member of the ALA/OITP Digital Task Force.
Over 70 library systems from the United States and Canada — including New York, Los Angeles, Boston, Toronto, and Chicago — today issued a joint statement demanding vastly improved ebook services for library users in North America. The statement, dubbed the ReadersFirst Initiative , outlines four principles the libraries want e-content providers — the middlemen between publishers and libraries — to follow in order to lift content restrictions and also make the borrowing experience less cumbersome.
Top Libraries in U.S. and Canada Issue Statement Demanding Better Ebook Services
Christian Zabriskie: Confronting The Biggest Threat To The Public Library
There is something ineffably sad about abandoned books. They sit, discarded, a story that will never be shared, pages that will never be turned. People are drawn to them, they are protective of them.
Some Libraries Still Have Got It Wrong…
There is a quote by John Milton engraved over the entrance to the main reading room at the New York Public Library's stunning Beaux-Arts building on Fifth Avenue: "A good Booke is the precious life-blood of a master spirit, imbalm'd and treasur'd up on purpose to a life beyond life."
New York Public Library's plan to take books off shelves worries scholars | World news
bc video: 'Little' libraries catching on across US
Or get out at least until there is a better system? I know what you are going to say, I can hear it already – "We can't! Our patrons demand ebooks!"
Should Libraries Get Out of the eBook Business?
Silence is not so golden in the modern library
''Using information, learning and reading are not just solitary activities'' … Alex Byrne at the Warilla library.
Futurist Speaker Thomas Frey - The Future of Libraries
10 Ways Libraries Matter in a Digital Age | Friends of the Phillipsburg Free Public Library
The Spaghetti Sauce Moment for Libraries
JACKET MECHANICAL: Libraries
Libraries and the Commodification of Culture | Academic Librarian
Saving the library one cookie at a time
Foreign Libraries Will Be Infringing Sites Under SOPA
Publishers and Writers and Libraries
Erinn Batykefer: Art Incubators: How Libraries Offer More Than Books
Why a shift to ebooks imperils libraries
Libraries In Crisis : Pictures, Videos, Breaking News
Ti Point Tork » Blog Archive » Libraries: Where It All Went Wrong
Google+ for Libraries « Library technician dialog
It's Not About Libraries, It's About Amazon
9 Reasons Publishers Should Stop Acting Like Libraries Are The Enemy
New Google+ and Libraries
Saving libraries but not librarians [Blowback
Why Amazon's Lending Library is Not a Threat to Public Libraries
Philip Pullman declares war against 'stupidity' of library closures | Books
How Libraries and Museums Will Be Different in 2020…10.22
Amazon Suckers Libraries
The Rage to Defund Libraries Goes Off the Deep End
Dymvue