JAVASCRIPT
Get flash to fully experience Pearltrees
The tree layout implements the Reingold-Tilford algorithm for efficient, tidy arrangement of layered nodes. The depth of nodes is computed by distance from the root, leading to a ragged appearance. Cartesian orientations are also supported. Implementation based on work by Jeff Heer and Jason Davies using Buchheim et al. 's linear-time variant of the Reingold-Tilford algorithm.
Very frequently in Web development (and programming in general), you need to store a long list of boolean values (yes/no, true/false, checked/unchecked… you get the idea) into something that accepts only strings. Maybe it's because you want to store them in localStorage or in a cookie, or send them through the body of an HTTP request. I've needed to do this countless times. The last time I stumbled on such a case wasn't with my own code. It was when Christian Heilmann showed me his then new slide deck , with a cool feature where you could toggle the visibility of individual slides in and out of the presentation.
From FirebugWiki The Firebug Command Line provides these special functions for your convenience. These include functions to control the Firebug UI, functions interacting with the page, shortcuts for selectors and shortcuts for the Console API .
The JavaScript Console provides two primary functions for developers testing web pages and applications: A place to log diagnostic information using methods provided by the Console API , such as console.log() , or console.profile() . A shell prompt where you can enter commands and interact with the document and the Chrome DevTools. You can evaluate expressions directly in the Console, and can also use the methods provided by the Command Line API , such as $() command for selecting elements, or profile() to start the CPU profiler.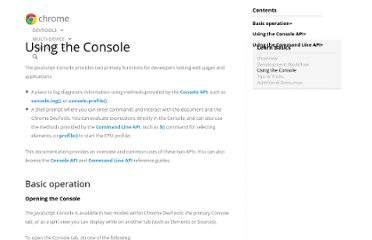 IE7.js : ce n'est pas de la magie, c'est de la technologie ! Utiliser IE7.js <!--[if lt IE 9]><script src="http://ie7-js.googlecode.com/svn/version/2.1(beta3)/IE9.js">IE7_PNG_SUFFIX=".png";</script><![endif]-->
With the rise of mobile devices, web development and debugging is more complex than ever. We have more browsers and platforms to support.
Autocomplete-jQuery ajax eXtplorer eXtplorer是一个基于PHP与ExtJS开发的文件管理器。你可以用它浏览服务器上的文件与目录。编辑,复制,移动,删除文件。搜索,上传和删除文件。