Graphism
Les Ambassadrices | Colorz. A l'origine de ce site, deux soeurs, avec l'ambition commune de rassembler leurs meilleurs adresses de boutiques physiques sur une même plateforme afin d'offrir un catalogue différent, avec des produits exclusifs.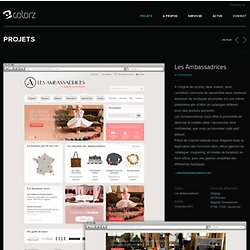 Les Ambassadrices vous offre la possibilité de dénicher le cadeau idéal, l'accessoire ultra-confidentiel, que vous ne trouverez nulle part ailleurs. Place de marché réalisée sous Magento avec la duplication des fonctions back office (gestion du catalogue, couponing, et modes de livraison) en front office, pour une gestion simplifiée des différentes boutiques. FIA-NET. IxD Gestures. We made a stencil for OmniGraffle with icons for touchscreen interaction, free gestures and mobile phone gestures.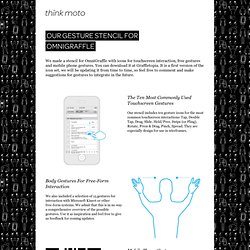 You can download it at Graffletopia. It is a first version of the icon set, we will be updating it from time to time, so feel free to comment and make suggestions for gestures to integrate in the future. Games Designed | Work by Alex Griendling — I illustrated this origami boat for a Zelda zine... I illustrated this origami boat for a Zelda zine that Cory Schmitz is putting together.
You can make it yourself, just download and print out the two templates I made: Page 1 (Link + sail + boat interior) Page 2 (boat exterior) Kuler. A huge list of Style Guides and UI Guidelines. If you are a graphic designer or an interaction designer and have ever been tasked with creating a style guide or UI guidelines document (both are different and I've had the pleasure to work on both of them creating templates and the actual documents for brands and products), this list should help you out as a consolidated list of references.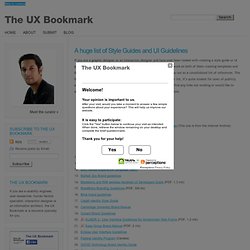 This list is going to be constantly updated (and will ultimately be a monster list, it's quite modest for now) of publicly accessible style guides and UI guideline documents on the web. If you find any links not working or would like to suggest one that is not on the list, feel free to comment and let me know.
---