Cheat sheets
Cheat Sheets & Quick Reference Cards for Developers | DevCheatSheet.com. Cheat Sheets - Added Bytes. HTML5 Canvas Cheat Sheet. There are cheat sheets for just about anything out there but I couldn't find one for the HTML5 canvas element, so I decided to do something about that, mostly for my own sake but if other people find it useful that's just all the better.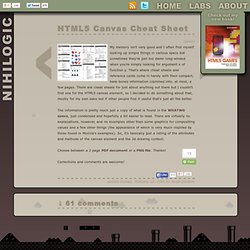 The information is pretty much just a copy of what is found in the WHATWG specs, just condensed and hopefully a bit easier to read. There are virtually no explanations, however, and no examples other than some graphics for compositing values and a few other things (the appearance of which is very much inspired by those found in Mozilla's examples). So, it's basically just a listing of the attributes and methods of the canvas element and the 2d drawing context. Most Useful Front End Cheat Sheets for Web Developers | DJDESIGNERLAB - Find All Your Design Inspirations From This Laboratory. Cheat Sheets are so useful for web-developers to remember various things.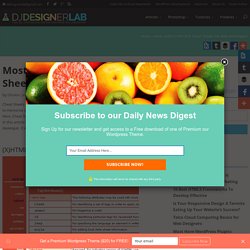 It's always complicated to memorize syntax for web developers and designers since they are always evolving and rising. Here, Cheat Sheet is always come in handy. These cheat sheets are designed to be printer friendly. In this article we are going to present some most useful cheat sheets, especially for front end web developer. Mega Collection Of Cheatsheets for Designers And Developers | Sp. Cheatsheets and various quick reference guides are available for almost any type of software and language these days.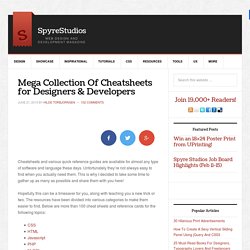 Unfortunately they're not always easy to find when you actually need them. This is why I decided to take some time to gather up as many as possible and share them with you here! XHTML HTML CSS Reference Book. The Web Developer's SEO Cheat Sheet. The author's posts are entirely his or her own (excluding the unlikely event of hypnosis) and may not always reflect the views of Moz. February 16, 2014 - Updated to Version 2.2: We've uploaded a brand new version of the PDF. It now reflects changes to Google's mobile user-agents. It is my honor and privilege today to introduce the brand-new version of The Web Developer's SEO Cheat Sheet. This free and downloadable document covers all of the important SEO code and best practices that are needed by online marketers and developers. HTML Playground, html, css reference by example.
---