Stuff
Save the Troy Library "Adventures In Reverse Psychology" - StumbleUpon. Riusuke Fukahori Paints Three-Dimensional Goldfish Embedded in Layers of Resin. First: watch the video.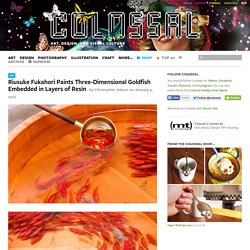 Japanese artist Riusuke Fukahori paints three-dimensional goldfish using a complex process of poured resin. The fish are painted meticulously, layer by layer, the sandwiched slices revealing slightly more about each creature, similar to the function of a 3D printer. I really enjoy the rich depth of the pieces and the optical illusion aspect, it's such an odd process that results in something that's both a painting and sculptural. Wonderful. 15 Engagement Rings Under $1,000.
Why Can't Middle-Aged Women Have Long Hair? Johnny Hernandez/Getty Images It's become a cultural norm: women of a certain age cut off their hair.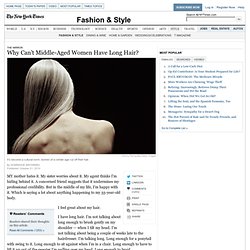 I feel great about my hair. "Chambord" Crazy Marriage Proposal. The Most Brilliantly Obnoxious Responses To Moronic Graffiti. The greatest smart-ass responses to idiotic graffiti. posted 02/16/2013 Bathroom walls give opinionated urinators everywhere a makeshift, bacteria-covered forum for virulent racism, misogyny, homophobia and, worst of all, philosophy.
Of course, we'd never advocate one of these obscene acts of vandalism — unless it's a smart-ass response to a previous act of vandalism. The Egg. Author's Note: The Egg is also available in the following languages: The Egg By: Andy Weir You were on your way home when you died.
It was a car accident. Nothing particularly remarkable, but fatal nonetheless. How To Steal Like An Artist (And 9 Other Things Nobody Told Me) - Austin Kleon. By Gene Ambaum and Bill Barnes. Out guest cartoonist today is Aaron Renier.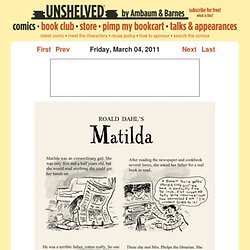 His first graphic novel, the all-ages Spiral Bound, was my favorite book from the 2005 Comic Con. (Alex Robinson was signing my copy of Box Office Poison when he booktalked it to me (Aaron was sitting quietly beside him.)) When Aaron's follow up book, last year's magical pirate adventure The Unsinkable Walker Bean arrived in the mail, my daughter and I put aside the books we were reading together and tore through it. It's excellent, and reminds me of the work of my favorite French comics writers (Sfar, Trondheim, Blain). And now he's written a comic for US! The Book Surgeon (15 pieces) Using knives, tweezers and surgical tools, Brian Dettmer carves one page at a time.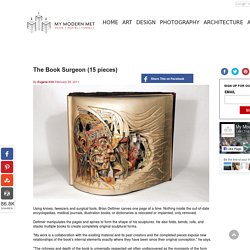 Nothing inside the out-of-date encyclopedias, medical journals, illustration books, or dictionaries is relocated or implanted, only removed. Dettmer manipulates the pages and spines to form the shape of his sculptures. The Egg. The Egg By: Andy Weir You were on your way home when you died.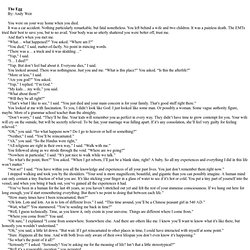 Cancer. Please Don't Promise Me Forever | Rotating Corpse. Imagine this: It's 1976 and you're dating a man named Rick.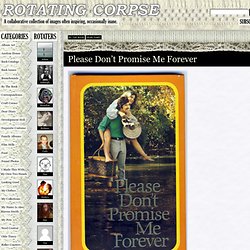 He has a mustache and owns at least one reindeer sweater. High off of reading The Easter Parade and The Great Santini, he's all pumped up to write the next great American novel but, to make ends meet, he's currently working for Hallmark. The free five minute personality test! Your Existing Situation Needs excitement and constant stimulation.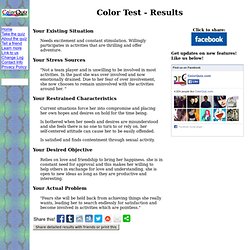 Willingly participates in activities that are thrilling and offer adventure. Your Stress Sources "Not a team player and is unwilling to be involved in most activities. Nick Patrick - Did Americans in 1776 have British accents? WILLIAM SPENCER-HOLLARADO! Uploads.ungrounded.net/221000/221483_Play.swf.
Quotes. Reading. Movies. Dreams-Meaning-Infographic.jpg (630×1350) Useless information — richardpettinger.com. Funny but relatively useless information A rat can last longer without water than a camel.Your stomach has to produce a new layer of mucus every two weeks or it will digest itself.The dot over the letter "i" is called a tittle.A raisin dropped in a glass of fresh champagne will bounce up and down continuously from the bottom of the glass to the top.A female ferret will die if it goes into heat and cannot find a mate.A duck's quack doesn't echo.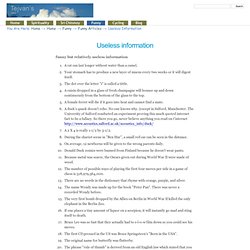 No one knows why.
---