Portfolio
I've scoured the web to find nine portfolio designs that are, dare I say it, probably better than yours, mine and just about everyone else's. I'm sharing them because they're fun, inspiring, creative and ultimately, works of art. I'll be up-front about one thing before we start, though. Unless you're a Flash genius or have lots of dosh to spend on things like that (doing work for Nike and Microsoft helps), you'll probably never have an online portfolio like one of these.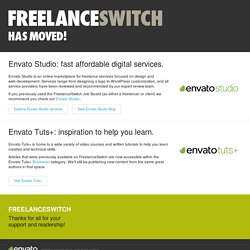 9 Insane Portfolio Designs to Make You Drool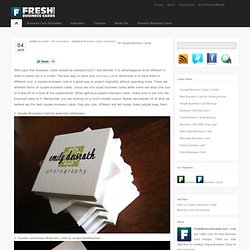 Fresh Business Cards Contact About Your Account Be a Premium Member 04 Apr 35+ Square Business Cards written by admin No Comments posted in Business Cards Inspiration
35+ Square Business Cards | Unique Business Cards
DesignWoop welcomes this guest post by Tomas Laurinavicius . Since the iPhone and iPad entered the market you can hear lots of news about apps for these devices. Tons of apps available today and you can find everything you want.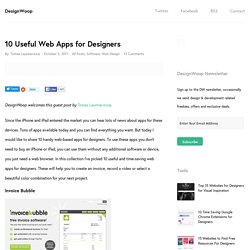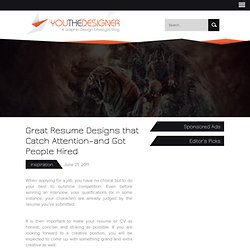 When applying for a job, you have no choice but to do your best to outshine competition. Even before winning an interview, your qualifications (or in some instance, your character) are already judged by the resume you've submitted. It is then important to make your resume or CV as honest, concise, and striking as possible. If you are looking forward to a creative position, you will be expected to come up with something grand and extra creative as well.
Graphic Design Resumes: Plain or Different? Part II » Graphic Design Schools & Colleges | Competitions & Contests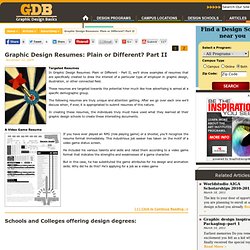 Targeted Resumes In Graphic Design Resumes: Plain or Different - Part II, we'll show examples of resumes that are specifically created to draw the interest of a particular type of employer in graphic design, illustration, or other connected field. These resumes are targeted towards the potential hirer much like how advertising is aimed at a specific demographic group. The following resumes are truly unique and attention getting. After we go over each one we'll discuss when, if ever, it is appropriated to submit resumes of this nature. In creating these resumes, the individuals truly must have used what they learned at their graphic design schools to create these interesting documents. . . A Video Game Resume
An Introduction to Font Accessibility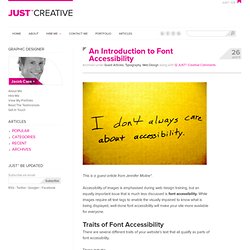 Posted on 26 '11 Jan Posted on January 26, 2011 along with 12 JUST™ Creative Comments This is a guest article from Jennifer Moline*. Accessibility of images is emphasised during web design training, but an equally important issue that is much less discussed is font accessibility.
Beyond Design, 10 Skills Designers Need to Succeed Now
Judging by the number of inquiries we've received lately there are quite a few recent graduates who have not landed that all-important first job in the profession. Of the few portfolios I've reviewed, it seems that this year's graduates continue the trend of improvement in skills and capabilities. That said, there are several attributes key to success that don't always get the attention they deserve in most design schools.