photography
Get flash to fully experience Pearltrees
<img class="alignnone size-large wp-image-7378" title="lam" src="http://www.wired.com/images_blogs/rawfile/2012/02/lam-660x439.jpg" alt="" width="660" height="439" />
For this Thursday we've made a series that captures a transitioning of day into night within a single photograph. In fact, this is going to be about a fine art project Stephen Wilkes has produced about New York in the beautiful patches of day and night .
We here at DPShots believe that the easiest way to learn photography is to learn it by example. Every now and then we come up with some amazing photography examples that take your breath away. This post is no different. We have collected some of the most amazing, most awesome and THE most beautiful photography we could ever get our hands on.
Photo by Ruston Agte Claude Monet once said, "The richness I achieve comes from Nature, the source of my inspiration." If nature photography is anything, it is inspirational. It's the kind that inspires you to finally plan that trip to Alaska, the kind that gently reminds you to look outside your window, and the kind that makes you want to save up some extra cash to buy that nice DSLR. Because through the eyes of a photographer nature really comes alive. The skies show off their gorgeous array of colors, the water lays still so that it can display a spectacular reflection, and animals seem to strike beautiful poses like they are our friend.
[click +] Six months. That's right.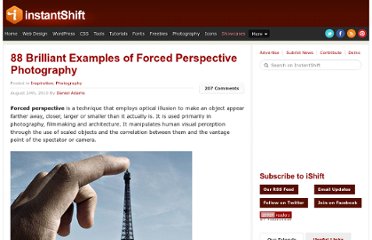 Forced perspective is a technique that employs optical illusion to make an object appear farther away, closer, larger or smaller than it actually is. It is used primarily in photography, filmmaking and architecture. It manipulates human visual perception through the use of scaled objects and the correlation between them and the vantage point of the spectator or camera.