Resources
Builders
In the Maker Shed: Minty Boost USB Charger. Delicious. Catagenesis - The Blog. China. Complex Systems. Models to Emulate. Mutha F*#$ing Cool. Survival. Climate Change. "The Singularity" & Convergence. Seek to implement. Exponential Growth & Systems. Critical Thinking - Methods & Tools. Resilience. Ecology. Philosophy & Deep Thought. Consciousness, Meditation, Mind States, Mindfulness.
Politics
Sustainability. Life Hacks. Energy. Strategy. Podcasts. Health & Nutrition. Complex Systems. Spirituality. NGO's. Media, Education, Information & Technology. Miscellaneous. Visualizations.
Various stuff
Psychology. Key Thinkers. Survival. Money, Business, Finance & Economics. Food & Agriculture. Financial Warfare and the Failure of US Military Leadership by Damon Vrabel. By Damon Vrabel The "War on Terror" has become the most successful military diversion in history, having lasted twice as long as WWII so far.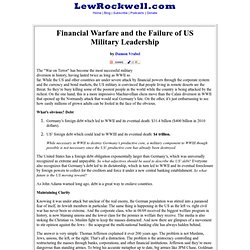 While the US and other countries are under severe attack by financial powers through the corporate system and the currency and bond markets, the US military is convinced that people living in remote deserts are the threat.
Videos
Innovation & Creativity. "The End of the World / (As We've Known It)"
---