Picking a Profession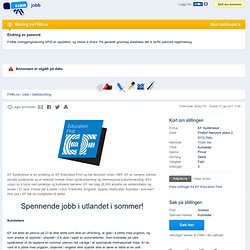 Spennende jobb i utlandet i sommer! - EF Education First
Kursledere EF ser etter en person på 23 år eller eldre som liker en utfordring, er glad i å jobbe med ungdom, og som ønsker et opphold i utlandet i 2-4 uker i løpet av sommerferien. Som kursleder på våre språkreiser vil du oppleve en sommer utenom det vanlige i et spennende internasjonalt miljø. Er du vant til å jobbe med ungdom, utdannet i engelsk eller spansk eller er lærer er dette er en unik mulighet for deg til å få internasjonal arbeidserfaring. Jobben innebærer hardt arbeid og mange utfordringer, samtidig som den er svært utviklende og opplevelsesrik!
Jobba hos oss - Adlibris Bokhandel
Vil du noe mer? Bli med på SE:Piloten | Sweet Chili Stories | Sweet Chili Stories
I'll be the first to admit that when it comes to using the iPad, or another capacitive screened tablet, I rarely use it for serious work. in fact, I probably won't ever use it for serious design work until there's a wacom digitizer integrated into my iPad. Yes, I'm strictly an apple guy. That being said, I've tried many a stylus for sketching on my iPad for fun. I've even helped kickstart a few.