Inspiring
Richard St. John har funnet den nøyaktige oppskriften på suksess. Han sitter på et fly på vei til den prestisjetunge TED-konferansen som samler noen av verdens mest vellykkede og fornøyde mennesker til diskusjon og presentasjoner hvert år. Ved siden av ham sitter en jente.
Slik blir DU millionær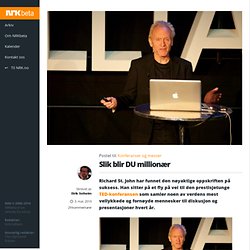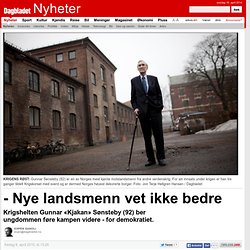 (Dagbladet): Gunnar «Kjakan» Sønsteby (92) nølte aldri da tyskerne kom. I dag er det nøyaktig 70 år siden. Han nøler ikke i dag heller: - Tap av sivile liv er ikke til å unngå. Det kan til og med være en fordel. Sønsteby blunker ikke når han sier disse ordene.
Krigsveteran- norges største
Stoltenberg hyller Gunnar Sønsteby
100 Most Creative People In Business
DaVinci-inspiration
Leonardo Da Vinci, the original Renaissance Man, was best known as a master painter and sculptor. He was also a capable inventor, mathematician, scientist and more. In fact, he was a polymath who studied multiple disciplines including music, writing, anatomy, architecture, botany, plate tectonics, civil engineering, optics, and hydrodynamics. The number of scientific inventions da Vinci produced was truly remarkable.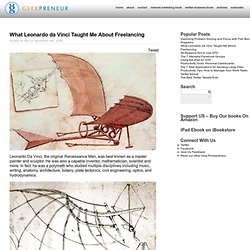 Guy Kawasaki: Du er en idiot om du forstår Twitter umiddelbart!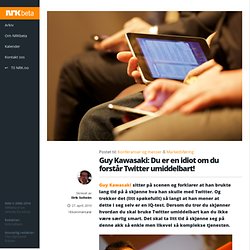 Guy Kawasaki sitter på scenen og forklarer at han brukte lang tid på å skjønne hva han skulle med Twitter. Og trekker det (litt spøkefullt) så langt at han mener at dette i seg selv er en IQ-test. Dersom du tror du skjønner hvordan du skal bruke Twitter umiddelbart kan du ikke være særlig smart. Det skal ta litt tid å skjønne seg på denne akk så enkle men likevel så komplekse tjenesten.
Innføringen av «Toyota-metoder» i eldreomsorgen har vært kontroversielt, selv i frisinnede Danmark. Fagforeningene advarte lenge mot å la bestemor bli underlagt samlebåndsmetoder. Men blant de ansatte Aftenposten møter på Egegården aldershjem og hjemmepleie, har skepsisen avtatt. - Slike verktøy blir jo lett floskler, sier hjemmepleier Helene Wedeltoft. Hun trives på Egegården, det største aldershjemmet i Gladsaxe kommune utenfor København.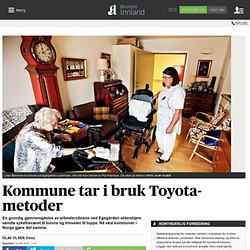 Kommune tar i bruk Toyota-metoder
Thomas Seeberg Torjussen