FB - Réflexions et conseils sur FB
Si vous allez voir certaines agences de communication web 2.0, nous apprenons que Facebook, ouah c'est 300 millions de clients potentiels.
Communiquer sur Facebook? Comment, pourquoi et enjeux « Le blog
Communiquer sur Facebook ? comment pourquoi et enjeux by castorp Dec 7
31 façons d'utiliser Facebook en entreprise (Kryzalid blog) by castorp Nov 30
Why are you marketing on Facebook ? Does your target demographic thrive here? Are they actively discussing the topics surrounding your product or service?
17 Questions To Consider Before Creating Your Facebook Fan Page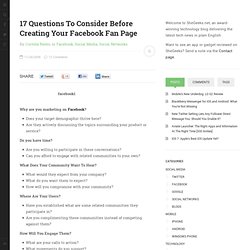 17 questions à se poser avant de créer sa page de fan sur Facebook (en anglais). [marketing social] by castorp Dec 1
Like any social tool, Facebook needs to be worked in order to achieve specific marketing, event or fundraising goals. Yes you need to have a an effective Facebook Page where fans can easily interact ( read " 11 Quick Tips to Enhance Your Facebook Fan Page " by @ franswaa ).
How to build a Facebook community (14 "levers" you need to be pu
Les 14 leviers qu'il faut manipuler pour se construire une communauté Facebook. by castorp Nov 30
Les repentis de Facebook
Carte mentale : les répentis de Facebook by castorp Jan 4
Facebook, ce géant qui mute au fil du monde « Le blog d'Antoine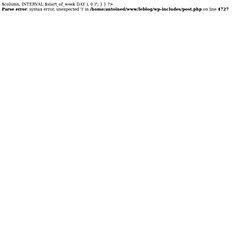 Curieux tout de même cette espèce de paradoxe.
Top 50 Pages on Facebook
Top 50 pages on Facebook, sur le blog Naro Minded. Au cas où on voudrait créer la page Facebook de son entreprise. Des exemples pour s'inspirer. by castorp Jan 4